---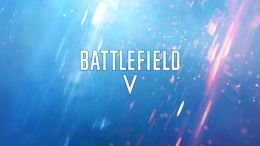 Battlefield V has been surrounded with discussion for the past few weeks now, starting with still-unconfirmed rumors that the next installment will feature a battle royale mode. DICE and EA both have been hinting at various things about Battlefield V, culminating in a planned live reveal of the game this Wednesday, May 23rd. In order to jump ahead of all this, Battlefield's official YouTube channel put out a very brief teaser trailer. While it may not seem like much at first, being that the trailer is only twelve seconds long and features a shot of a soldier shushing another soldier, the real key information can be gleaned from the heads-up-display seen at the borders of the screen: What appears to be icons of the British Union Jack and the German Balkenkreuz (Iron Cross). That's right; Battlefield V is set in World War II!
It's a move that may seem similar to Call of Duty's recent return-foray back into the World War II era, but there are only so many periods you can go to. Naturally, the game will feature a multiplayer mode as is standard for Battlefield games, but the specifics behind this are uncertain. All the developers have given us so far is the mention of "new modes and experiences". The battle royale rumor is still going strong, but there haven't been any official hints or confirmations from DICE or EA themselves, so that's just something we'll have to wait and see. Fans who are craving single player don't have to worry about it being left out either; EA confirmed Battlefield V will feature a single-player mode, but instead of just one story, it will have multiple "single-player stories". What this means is unclear, but at the very least, it sounds like we'll be hopping around between different characters.
Curious is the live reveal that the developers are live streaming. Considering its reveal date, DICE is getting ahead of the curb just before E3 here in a few weeks. This has been a rather common trend a lot of this past month, with big-name developers revealing or announcing big-name titles or news about said titles, sometimes even showing off things that would seem right at home at an E3 press conference. Having that, combined with many studios outright confirming ahead of time what games will be there, those who want to remain surprised best tread lightly in the coming weeks.
Most of what we'll find out will almost assuredly be in the live reveal, but for now, we at least have some info on the release and platforms for the game. Battlefield V will be releasing sometime in October this year, which seems to be right around the season most triple-A shooters set their release dates. The game will be available on PlayStation 4, Xbox One, and Windows PC, and it's all been developed on the ever-popular Frostbite engine, just like most of DICE's recent work. You can catch the live reveal on Wednesday, May 23rd, at 1 pm PT/4pm ET on Battlefield's official YouTube channel and/or other streaming services. Check out the short teaser below; it's as Battlefield as it gets.