---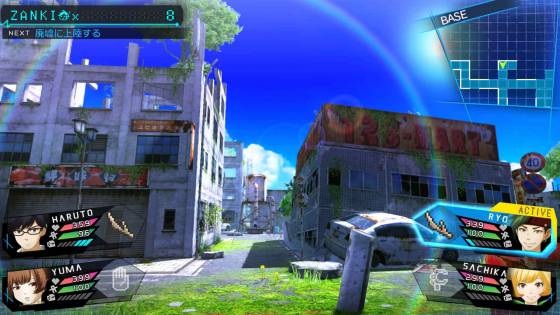 Danganronpa's creator is at it again! Or rather, he already has been. Zanki Zero: Last Beginning is the latest game from Yoshinori Terasawa and Takayuki Sugawara, but it's already been out in Japan since July of this past year. Publisher Spike Chunsoft has been busy working up a localization for Western audiences ever since, and now, it looks like the light at the end of the tunnel is finally here. Announced via way of a new trailer, Spike Chunsoft revealed that Zanki Zero: Last Beginning will release in March of 2019 for both PlayStation 4 and PC. Interestingly, this leaves out the PlayStation Vita, which is one of the platforms the game released on in Japan. This is likely due to Sony's stance on the Vita at this point, with production of games ending in the near future.
Zanki Zero is a curious game that flies away from the doom and gloom of Danganronpa's death games and class trials, instead opting for a survival experience on an island with a unique cast of characters. They don't really know why they're on this island; they just wake up there, and the Earth around them has seemingly gone to ruin. They now have no choice but to live out their lives on this island, which also has the bizarre property of making them age faster. It takes 13 days to go through a character's life cycle from infant to elderly, and each character gets their own chapter. Once they pass away, they're reborn again as a "clone", with abilities and upgrades carried on to the next life. Sounds pretty unique, no? And definitely up the sleeve of the mind of its creator.
At its core, Zanki Zero is a survival and resource management game. As with Danganronpa, it features visual novel segments aplenty to carry on the narrative and show off its characters. When not reading the plot, you'll be tasked with hunting and gathering materials from monsters strewn around the island. Your character's basic needs will also have to be looked after, such as sleep levels, hunger, etc. If you don't take good care of these stats, it could be "fatal for your party", as the description reads. Spike Chunsoft cryptically hints that we'll find meaning in the characters' never-ending cycles of life and death by the end of the game. No doubt it also has a pretty bonkers plot just like Danganronpa does. Each character in Zanki Zero is based around one of the seven deadly sins. What this means is up to you to speculate till the game releases.
March 19th is when we can expect to play through this quirky adventure! For those of us in the West, Zanki Zero: Last Beginning will be put out on PlayStation 4 and Windows PC. Spike Chunsoft is holding a special Day 1 release bonus for the game that fans can enjoy. Those playing on PS4 can purchase the Day 1 editions to score the official soundtrack along with it. For Steam PC users, this will mean purchasing the game early to nab the bonus. As with his past games, Zanki Zero will also feature both Japanese and English dubs for those who prefer to choose. The new trailer even gives us a glimpse at what the English voices all sound like, and thankfully, it's to the level of quality that we've come to expect from dubs of these games. If you want to check out the trailer for yourself to see what I mean, it's down here! For all else, make sure to give a look at the game's official website and see what all the fuss is about.