---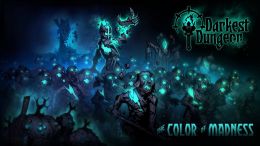 The developers over at Red Hook Studios have just announced that their acclaimed dark fantasy title Darkest Dungeon will be receiving new downloadable content. Called Darkest Dungeon: The Color of Madness, this upcoming content will feature new quirks, bosses, and regions, among other additions.
Upon noticing some hateful shard of alien origins beginning to streak across the night sky, you'll see the object crash into the old Miller's farm that resides in the outskirts of the Hamlet. Those who were unfortunate enough to witness the Comet's arrival first-hand have been instantaneously blinded by what the locals can only describe as a shifting, ephemeral hue of abrasive intensity. The farmland that was impacted has gone into direct silence, and those presumably alive have cut all contact with the outside world. It's not until you begin to hear the unearthly groaning that echoes from the ruins of the mill that you begin to suspect those left are in need to dire attention, which starts your journey to them.
The new region featured is called The Farmstead, and houses your endless quest. It is imperative that you survive for as long as you can while fighting against the warping of time and space. You'll find yourself assaulted by seemingly unending waves of enemies, both new and familiar while pushing yourself closer to the crash site that houses the Comet. The Jeweler will be well-equipped with new, twisted trinkets, but they come at a new cost. Your gold will no longer be of any use, as he will only begin to trade these new items in return for Comet Shards.
A new enemy faction will be introduced in the form of The Miller and his army of loyal workmen. They have quickly become shadows of their former selves, and waste no time in trying to take you out. The three new bosses consist of The Miller himself, The Thing From the Stars, and the actual Comet. New Curios will be available to aid your party in these new fights, and your Hamlet may be expanded as four new District buildings will be available, each sporting various unique benefits. With this also comes new quicks that contain their own specific effects. The cosmic eeriness of the world will be coupled by the largest soundtrack to date, composed by Stuart Chatwood.
For those unfamiliar with the base game, Darkest Dungeon is a challenging gothic-inspired roguelike that utilizes turn-based role-playing game elements. You begin by recruiting a team and follow by leading your flawed party through unimaginable horrors, stress, famine, and disease. It will be imperative to keep the mental sanity of your team intact before all hope is lost, as they can easily be overcome by psychological stress, and become unresponsive if they do. The gameplay mechanics utilize perma-death features, meaning that if one of your heroes dies in battle, they are gone for good. Strange mysteries will be unfolded and an array of fearsome monsters will approach you from all angles of the dungeons through the strategic combat system.
The Affiliation System allows you not only to battle the monsters but manage the stress levels of your heroes. Each one of your team members can experience paranoia, fear, irrationality, masochism, and various other psychological traumas throughout their battles. If they are overcome with one of these "quirks" their gameplay options will change and adapt as they are being affected by their overwhelming states of mind. The narrative system that's implemented is set to celebrate your success as well as your failures, which you'll soon realize, as death becomes part of the commonplace.
The art design includes a hand-drawn gothic crowquill-style landscape and wide array of characters. Players will have the autonomy to choose between over sixteen playable heroes that include Leper, Hellion, Plague Doctor, and various others that fit the macabre themes. As you and your team are being wounded in battle through the procedurally generated dungeons, be sure to camp when necessary to heal wounds and deliver uplifting, inspiring speeches. Your shell-shocked team will certainly appreciate it.
Darkest Dungeon can be experienced on Windows, Mac OS X, and Linux through purchasing a copy on Steam, Humble Store, or GOG for $24.99. The new Darkest Dungeon: The Color of Madness DLC will be available come June 19. More info can be found on Red Hook Studio's website.