---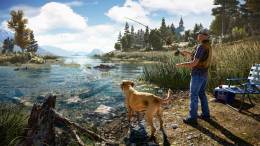 The Far Cry series has had a tradition in the past of adding map editor modes to their games. While the first Far Cry didn't have one, every game onwards from 2 to 4 each got their own unique map editors. The upcoming Far Cry 5, set to release later this month, looks to continue the tradition, though in far bigger ways than its predecessors.
Ubisoft recently revealed all the details on what to expect out of this mode, which goes by the fitting name of Far Cry Arcade. The first and most notable thing about it is that it will allow players to create maps in a large variety of game modes. Players can choose to create single player maps, PvP, or co-op, allowing for a map type to fit whatever your desire may be. It will also feature two unique gameplay modes to style your maps with if you choose, such as Journey (seek an exit) or Bounty Hunt (exactly what it says on the tin).
But that variety doesn't stop at just the game modes. In discussing what could actually be put in the maps themselves, Far Cry Arcade's lead game designer, Clark Davies, stated that there would be about 7,000 objects to use in total. These objects consist of the standard things like weapons, buildings, characters, and vehicles. However, also grouped into these objects will be assets from other Ubisoft titles, such as Watch Dogs, other Far Cry games, Assassin's Creed IV, and Assassin's Creed Unity. As Far Cry 5 gains new post-game content, such as their Mars and Vietnam add-ons, the objects from these add-ons can also be used in Arcade. Basically, you won't be hurting for choice when it comes to creating maps in Far Cry 5, and the possible combinations here range from the super cool to the wildly bizarre, with things like zombies and yetis at your disposal.
Far Cry Arcade will tie into the main campaign of Far Cry 5. Anywhere you see an arcade cabinet or poster in Far Cry 5's world, you can interact with it to jump into Far Cry Arcade and check the latest maps, or ones featured by Ubisoft themselves. You'll retain the same stats as you have in the story when playing through these maps, and as an added bonus, you'll even take what experience and items you earned back with you to the story mode. In doing this, Ubisoft wants Far Cry Arcade to be tied closely to the single player experience.
Far Cry Arcade will be getting continuous support from Ubisoft well after the game launches, with things like contests, tutorials, and more all being a daily updating part of the experience. From the sounds of it, the game will have an even longer lifespan thanks to this plethora of options! Far Cry 5 officially releases on March 27th, near the end of the month, for PS4, Xbox One, and Windows PC. You can check out all the craziness of Far Cry Arcade in the trailer below.