---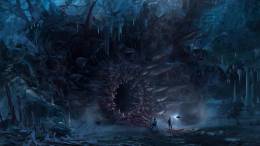 Ever heard of Midwinter Entertainment? No? That's correct, because neither has anyone else, until today that is! A new indie studio brought out by former Halo series executive producer, Josh Holmes, Midwinter Entertainment already has their sights set on a clearly defined first project: Scavengers. Holmes himself provided all the details earlier today.
I'm sure most Halo fans out there remember the Warzone game mode featured in Halo 5: Guardians. In it, a grand total of 24 players would duke it out on a large map, but the unique twist was that AI-controlled adversaries would be thrown into the fray, which would factor into the teams' scoring and map control. Scavengers is going to follow a similar concept, though in much bigger and more intricate ways, as Holmes explained that the hardware used behind Halo 5 was a limiting factor, one that's not present today. That being said, the inspiration from Warzone is clear.
So imagine the above description of Warzone, but imagine it bigger, and with survival elements added to the gameplay. That, in a nutshell, is what Scavengers is going for. Taking place in a near-future where the Earth is undergoing another ice age due to a messed up Moon, matches in Scavengers will consist of an unknown amount of players split up into multiple groups and factions. While they are, of course, fighting against each other, Holmes stated that Scavengers will feature "co-opetition", a mishmash of cooperation and competition, due to the added element of AI enemies. In each game session, the maps will be large and various teams may stumble across each other, but AI-controlled enemies (each with their own factions) will also be scattered around the map, which players can choose to take out by themselves or with the assistance of other opposing teams.
And that choice factor is really a large part of what Holmes and Midwinter want to do to shake up Scavengers and set it apart from Warzone. Players will have their own objectives to complete, ones that might not even involve requiring taking out the other teams, which means you'll have choices to make on if you want to engage them in combat for extra stuff or not take the risk. Same goes for the AI enemies. Since the game will feature survival mechanics, resources and ammo are likely going to play a pretty key factor, though the specifics are unknown as of this time.
Scavengers is being built on SpatialOS, a cloud-based platform that's seen a rise in use lately with more recently announced projects like Automaton's Mavericks: Proving Grounds. Midwinter Entertainment will be receiving direct funding from the creators of SpatialOS, meaning their resources will make for quite a good looking game. As of right now though, all we have are some concept art images from the studio to give us a rough idea of what they're going for. Details like the platforms and release date will likely come out sometime at a later date, so keep an eye out for more. Midwinter did a video talking about Scavengers, which you can view below!