---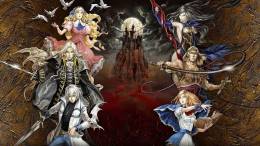 For a while there, it was starting to look bleak on whether we'd see a new Castlevania game or not. The last game in the series was 2014's Castlevania: Lords of Shadow 2, but since then, it's been complete silence on anything new for the franchise. Today's changed that all, however, with a new game announced by publisher Konami themselves, even if it's not quite the game fans were expecting. Entitled Castlevania: Grimoire of Souls, this new Castlevania title will be a multiplayer focused mobile game.
While the multiplayer focus might make some turn their noses up at this one, do note that the game does indeed have a story backing it, featuring brand new characters and the return of ones you're more familiar with, like Alucard, Simon Belmont, Shanoa, Maria Renard, and Charlotte Aulin. The main characters of this game are the mysterious Genya Arikado, a government agent who has the power to fight against Dracula, and Lucy, a young researcher who supports Arikado in his endeavors. The game is set in a future where Dracula has been completely destroyed until all of that changes when Arikado receives a letter. All of this does beg the question of how the story will be incorporated into the multiplayer, so that'll be interesting to see.
So what about the gameplay, you may be wondering? According to the game's official website (translated courtesy of Gematsu), Grimoire of Souls will feature a lot of the different types of multiplayer you'd expect, cooperatively and competitively. You can team up in real time co-op and fight in action-oriented battles, as well as play in a four player-boss rush mode that expands upon that. If co-op isn't quite your thing, the game will also feature 4v4 competitive multiplayer. Interestingly, the game seems to have an "emphasis on pairs" when it comes to the characters. The details implied that players will be able to team up to two of their favorite characters of choice, be it the new characters or the former ones, and use them together in a variety of ways. Keeping in with the themes of mixing the old with the new, Grimoire of Souls will also have music from other Castlevania games.
Konami will be holding a closed beta test exclusively for Japan here in the near future, with sign-ups already being open as of now. Once signed up, an email will be received sometime in May with further details. Naturally, the release date isn't known yet, but it's likely to be sometime later in the year. While an international release wasn't specifically discussed in the proceedings, it was heavily implied when the co-op gameplay was detailed, stating that co-op would be "around the world", so we'll likely see it West-wards too. Konami provided some screenshots of the game to give us an idea for now of what it'll be like. While Android devices weren't confirmed, you'll be able to play Castlevania: Grimoire of Souls when it hits the iOS!