---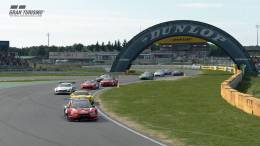 PlayStation 4's exclusive racing game, Gran Turismo Sport has recently received an update. First launching in October of 2017, this game has received many updates since its release, the most current being on March 28th. Patch 1.15 is available for free and includes many new features.
The most notable feature included is its newly added VR mode. This mode called VR Time Trial is located in the VR Tour Mode. It makes use of the PS VR by giving you a 3D view in a 360-degree environment. You are able to face one AI controlled racer in the VR Time Trial on all racetracks and vehicles that appear in the main game. This offers a new way to have some fun in GT Sport and take a break from the main VR Tour Mode and try to beat your best lap times. Unfortunately, the VR mode is not multiplayer and only features one difficulty.
A new map has been added to Gran Turismo Sport. The Tsukuba Circuit, a real-life circuit located near Tokoyo in Shimotsuma City, has been used by many car manufacturers and magazines to test the performance of automobiles. Many big racing events have been organized here, including the popular All-Japan Touring Car Championships. The Tsukuba Circuit has many long straightaways as well as wide turns and very tight corners creating a mix of challenges for any driver. It is a sound judgment that a track like this gets added to GT Sport.
Three new events with different difficulties in the GT League have been added to the game. The beginner league's Nissan GT- R Cup, where you can race in high-performance sports coupe only manufactured by Nissan. The amateur league's Redbull X-Junior Serious restricts you to only Red Bull X makes against other racers. And finally, the professional league's All Japan GT Car Championships lets you race in Japan only cars and is quite the challenge compared to the other two events.
Thirteen new cars have been added for free with this update. They range from classic roadsters to modern supercar concepts. The cars, of course, must still be purchased with in-game currency. Below is a list of all the newly added cars.
This patch has been already implemented to the game and can be acquired once you download the free update for Gran Turismo Sport. The official patch notes for Patch 1.15 can be seen on the Gran Turismo website. We will give you any updates as we receive more information.