---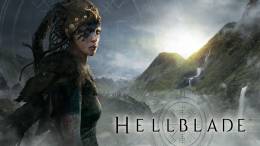 Hellblade: Senua's Sacrifice released digitally last year to gamers on PlayStation 4 and PC. Developed by the indie company Ninja Theory (of Enslaved, DmC fame), this haunting independent game focuses on a mentally ill character traveling through supernatural lands to revive a person she loved very dearly, all the while battling with entities and her own psychosis. A lot of Xbox One gamers without either of these platforms never got a chance to play the game, but thankfully, that changes now, as Ninja Theory recently confirmed on their Twitter that Hellblade: Senua's Sacrifice will be releasing on Xbox One just next month!
Xbox One players have some unique perks to look forward to for their version of the game. For those of you out there who have an Xbox One X, Hellblade will feature three different performance modes to choose from, all of which you can change on the fly as needed, providing a lot of variability and choice in how you play. The first mode is Enhanced Visuals. As the name might suggest, this mode focuses less on the technical aspects and more on the visual aspects, bumping up the quality and details in ways that remain to be said as of yet. The second mode is High Framerate. If you want to play the game at 60 frames per second, this is of course the mode to play on, being the smoothest way to play the game, but not the prettiest. Last but not least is the High-Resolution mode, which takes advantage of the Xbox One X's 4K resolution capability and dynamic scaling, giving the best looking experience at the cost of less framerate. HDR will be supported on both Xbox One X and the original Xbox One.
As an added bonus, Ninja Theory is seeking to make it up to the Xbox One community for the long wait and is providing a ten percent off deal on Hellblade if you pre-order the game, or purchase it during the first week of release. This provides just that more incentive to get the game, which is great since now it can get even more exposure on a whole different platform. Being an indie title, Hellblade's resounding success has been rather inspiring for indie developers everywhere, with the game even being self-published by Ninja Theory themselves.
Hellblade: Senua's Sacrifice will release to Xbox One on April 11th, which isn't too far away at all. Just like the PlayStation 4 and Windows PC versions of the game, this one as well will be digital only. For those of you out there who have yet to play Hellblade, now you have three entire platforms to choose from, so make the pick wisely, and definitely don't let this gem slip by you! And remember: Play with headphones. It's the best experience.