---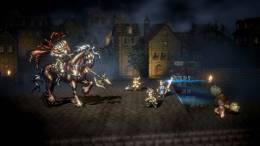 Square Enix and Acquire's unique RPG Octopath Traveler has been abuzz with hype ever since its demo got released to the Nintendo Switch last year, following not long after its initial announcement in the Switch presentation event from that January. The developers have been hard at work on the game since the demo release, going so far as to take player feedback and work out the kinks in the game that fans felt needed fixing up. Now, a little over a year since it was announced, Octopath Traveler finally gets its release date: July 13th. It was revealed today in a new Nintendo Direct, which also had the jaw-dropping reveal of a new Smash for Switch.
Octopath Traveler utilizes a unique "2D-HD" art style, where the characters are rendered in 16-bit sprites while the backgrounds remain 3D, stunningly lit and all created in Unreal Engine 4. The game has players choose from one of eight characters to play through as, each with their own stories, personalities, and skill sets that will allow them to interact with the world in different ways than the other. This gives the game 8 different ways to play through its large, expansive world. In today's Direct, the developers unveiled two new characters to choose from: a merchant and an apothecary. The merchant, Tressa, can purchase items from other characters (and items that can't be found in shops), while Alfyn the apothecary can gather extensive info about the world around him by inquiring with other NPCs. These will be two of the possible eight characters that you can choose to play as, which is why the game got the name 'Octopath' for eight.
The game's job system also got a new feature spotlighted: Mixing job classes to create new ones. For example, when playing as the Apothecary, you could add on the Warrior class to not only make him good at gathering info but a decent fighter too. This is a feature supposedly acquired as you progress further through Octopath Traveler and looks to add even more variety to the combat system and possible ways to play the game. This combined with the variety of character selection means no one playthrough might go exactly the same.
Players looking to purchase the game can either get the standard edition or the special edition, which comes with a whole treasure trove of additional goods. A pop-up art book featuring info about the characters, a CD soundtrack, a replica coin (based on the in-game coins), and a map will all come in the special edition, which looks perfect for any hardcore collectors out there. Both editions of Octopath Traveler will release worldwide on July 13th later this year, adding another solid RPG to the Nintendo Switch library. You can view the full announcement trailer below, and make sure to catch the archived Nintendo Direct if you missed the half an hour event. Stay tuned for any updates!