---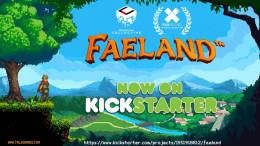 Indie games used to be very hard to make and publish. For a while, you could make the game and then find a way to get it to your audience. Now, while making games can still be difficult depending on what you want to make, getting them out there isn't as hard, nor is raising money to get them. Why? Because of crowdfunding services like Kickstarter that allow people to pledge to projects they want to see made. Over the years Kickstarter has brought many incredible games to life. And now, it's on track to bring a very old-school title to gamers systems called Faeland.
Faeland is a Metroidvania style title that utilizes 8-bit graphics to really nail the classic era of video games. But don't be fooled by its retro inspirations and look, this game is very deep. And what's more, despite having 22 days (at the time of this post) to raise money, it has already hit its funding goal. Which means now it's looking to secure stretch goals. That's very impressive.
In Faeland, you play as Sam, who is a skilled hunter. The world he lives in is one where peace has reigned for quite some time. Although the people of the world realize that there are dark forces out there, they've worked hard to keep a good distance from them. However, when a group of Orcs attack and burn down Sam's home, leaving him with basically nothing, he must travel through the land to find out what's going on. And there's a lot going on.
Anyone who knows the word "Metroidvania" understands that it means a wide open world that you can technically travel at your leisure. You can go forward, then go back, backtrack, sidetrack, off track, and every other track you can think of. And Faeland has that. There is a whole world for you to explore, and it has all the tropes a fantasy world should have. Forests, castles, lakes, dungeons, mountains, and more. Through your travels, you'll gain new abilities and skills to not only battle enemies, but find new paths in the world that can lead to new adventures.
Speaking of which, aside from the main storyline, there are also quests that you can complete in order to get valuable items that can be used to grow your character even more. There are a lot of options for you to take in Faeland, and that's speaking nothing of the combat, which is just as deep. You'll equip weapons like swords, spears, axes, knives, daggers, bows, and more, and then use particular skills associated with them to fight foes.
Other features Faeland happily promotes is that it has beautifully hand-drawn worlds and pixel art graphics. You'll be able to swap out your armor and drastically change the look of Sam. A wide variety of enemies and bosses to fight, including a Kraken, puzzles, and riddles that need to be solved, and music that perfectly fits the game itself.
As this is a Kickstarter, all pledges will receive rewards based on what they pledged. As the funding goal has been hit, it's fair to say that all future pledges will have guaranteed rewards. So, if you're looking for a new game to support, Faeland might just be worth your time. If it gets funded, it'll come out in 2019. You can go to their Kickstarter page and show your support. Stay tuned for any new updates.