---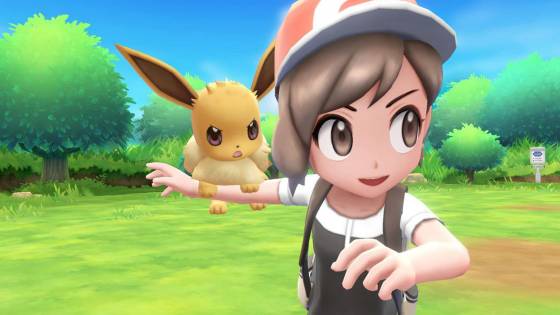 It may not seem like it now, but a few years back, Pokemon seemed to be adrift. For during Generation V, it was becoming somewhat clear to gamers that Game Freak and Nintendo were starting to draw blanks on how to improve the beloved franchise and keep it from becoming stale. Then, with Pokemon X&Y, the games took their first step into full 3D on the handhelds. Pokemon Sun and Moon (and their sequels) helped show the Pokemon world in a new light, and gamers responded. Now, with Pokemon Let's Go Pikachu and Eevee, things are once again evolving, and not just in the short term.
For you see, Pokemon Let's Go Pikachu and Eevee for the Nintendo Switch is aiming to be something special and unique, for it combines the visuals of an HD console, with the format of a hardcore Pokemon title, yet the mechanics of the ever popular Pokemon GO. The result seems to be a mix of styles that will bring both hardcore and casual Pokemon players together in a way that few previous titles have done. In fact, this "soothing" experience as the Game Freak team call it was part of their intent upon creating it.
They saw what Pokemon Go did for the franchise, and they decided to try and mimic that for the Nintendo Switch with this casual title. Including going so far as to give it the rather cute graphics that the mobile title similarly had, albeit in HD and with even more crisp and detailed models and animations.
In an interview with The Verge, producer Junichi Masuda noted that he loved the mechanics of GO so much that he had to put them into Let's Go:"[It's] the whole idea of the throwing mechanic. Also the concept of just having this living room experience where everyone will just kind of get together."
Indeed, Pokemon Let's Go will be bringing many together, for this is the first Pokemon title to feature true Co-op both in the overworld and in battles proper.
But it's not just Let's Go that Masuda is thinking about, but also, the main Pokemon title that many are eager for that will arrive next year on Switch. For he truly believes that between these two titles, it will be a "new beginning" for the next twenty potential years of the Pokemon franchise.
"The biggest thing I feel with Let's Go is really hoping that it's going to serve as sort of a base or starting point for the next 20 years of Pokémon. I really think it's important that Pokémon continues to be a positive force in the world."
Obviously, that's a big thing to ask, but if you had told them 20+ years ago that Pokemon would still be going strong in 2018, they would likely have said that it wouldn't be possible, yet it was. The future of the franchise is indeed resting on Let's Go and the main title, we'll just have to see how the sales and critical reviews go in order to judge what happens next.
Pokemon Let's Go Pikachu and Eevee arrive on Nintendo Switch on November 16th.