---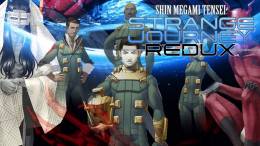 While it does get some flak at times, the ESRB rating system is a vital part of the video game industry, as it instructs players on what to expect in terms of violence, language, suggestive themes, and more. And especially in recent years, guiding parents on what games are ok to get for their kids, and which ones should be left on the shelf until they're older. The Shin Megami Tensei series has been finding good life on the Nintendo 3DS in recent years, and now, its latest port has gotten an official ESRB rating.
Shin Megami Tensei: Strange Journey Redux is coming to the Nintendo 3DS on May 15th, less than a month away. According to the ESRB, it has earned an M-rating, which isn't too shocking for those who know the series. But, in case you are wondering why it got the rating it did, here's the full ESRB breakdown:
"This is a role-playing game in which players assume the role of a soldier who, along with an elite squad, investigates an ever-expanding region called Schwarzwelt. Players traverse this alternate dimension through dungeons, interact with various enemies, and battle demons in turn-based combat. Players use a variety of weapon attacks and magic spells from a menu screen to kill enemies. Damage is indicated by impact sounds, colorful light effects, and large explosions. Some sequences depict surrendered/kneeling soldiers being executed in a hail of machine-gun fire; blood pools appear around characters' bodies."
"During the course of the game, some female demons are depicted with bare breasts (no nipples) and exposed buttocks; other demons have phallic-shaped heads and/or torsos. Descriptions of demons sometimes include sexual references: "They visit sleeping men and have sexual intercourse with them" and "It ravishes woman while they sleep, impregnating them." The words "sh*t" and "a**hole" appear in the dialogue."
If you have played the original Shin Megami Tensei: Strange Journey and are wondering if this is worth your time, the ports are often very different than the originals. And this one is no different. According to the official description of the game, there will be a brand new character named Alex that'll drastically affect how the story goes. What's more, he won't be the only new character in the game, and there's more story content besides his inclusion. So whether you're wanting to try out this adventure for the first time, or, want to see a new take on the original story, this may be a title worth checking out. If you still need some convincing or want to see how the game looks on the 3DS, check out the announcement trailer at the bottom of the page.
That's not the only Shin Megami Tensei game fans are interested in though. Developer Atlus revealed that the next core title, Shin Megami Tensei V is coming exclusively to the Nintendo Switch. Development has been going on for a while now, and fans are hopeful that a peek into what the game will be like will come soon. Until then though, Strange Journey Redux should tide fans of the franchise over.