---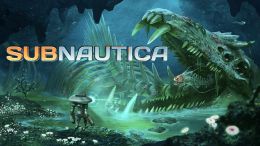 If you're a part of the PC gaming community, chances are you've already heard of Subnautica. It's been a very prolific Early Access PC game, one that's gotten even more attention due to Let's Plays by popular YouTubers. Subnautica just recently exited its years-long Early Access stretch at the beginning of this year, but only on PC platforms. While we already knew it would be making its full way to Xbox One later this year, Sony has now confirmed that the PlayStation 4 will be getting it too, brought about by the handy developers over at Panic Button. They even provided a handy-dandy new trailer to boot!
Panic Button has been real busy lately, as showcased in our article on their Switch optimism just the other day. They've been responsible for porting big name games to the Nintendo Switch, as well as some to other consoles, and Subnautica on PlayStation 4 is one of their next undertakings. Multiple companies have their hands in this too, with Subnautica developer Unknown Worlds responsible for the actual launching of the game, and Gearbox Publishing responsible for retail versions. It certainly is a bright future indeed for Subnautica, as the game has been in Early Access since back in 2014. It later was available in that state on Mac and Xbox One, giving those players a chance to try the early version for themselves. This past January, it finally came out in full for PC and Mac players, which is the version of the game PS4 and Xbox One will be receiving.
The fun of Subnautica lies in its open world exploration gameplay, and what better a place to set that type of gameplay than the vastness of the ocean floor? While exploring is fun, survival is a part of the whole thing too. The standard difficulty mode of Subnautica has you maintaining your hunger levels, oxygen, and hydration, all of which are impacted by a day/night cycle. If you don't want to stress about survival mechanics, Freedom mode and Creative mode will be right up your alley, both of which remove these features. Creative mode has the added bonus of providing every blueprint for craftable items. If you're a real survival nut though, Hardcore mode will feature the same mechanics but with a permadeath. Despite its openness, Subnautica does have a story to follow, and things to discover about its world set on an alien planet.
While the only date we have is a Holiday Season release window, Subnautica will be available on both PlayStation 4 and Xbox One come this time. If you can't wait for that though, the PC and Mac versions are readily available. The console versions will be available both digitally and via retail. Farther off in the future, Unknown Worlds is planning on giving the game HTC Vive VR support, which is currently in the works but hasn't been fully implemented just yet. Considering Subnautica's beautiful ocean vistas, VR is a choice that just makes sense. You can read the full PS4 announcement on the PlayStation Blog, or watch the PS4 announcement trailer which is viewable just below!