---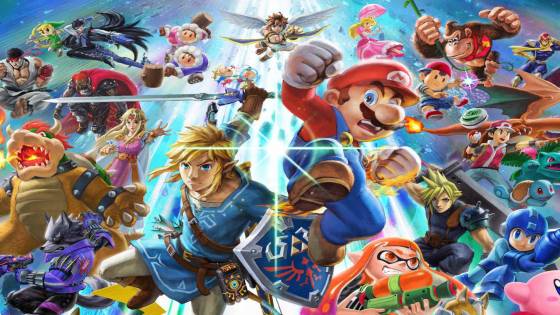 At E3 2018, Nintendo officially unveiled Super Smash Bros Ultimate for the Nintendo Switch, and needless to say, the gaming world exploded into a discussion about what would, and wouldn't, be in the game. Nintendo actually revealed quite a lot via a 25-minute video. For they showed that every character that had previously been in Smash Bros at any point in time (as playable characters) would be returning. Thus creating the tagline "Everyone Is Here!" They also revealed quite a bit of gameplay changes that will help make the game faster, more refined, and more focused. But it appears they aren't done with announcements.
For on their Twitter, Nintendo revealed that a special Nintendo Direct would be coming this Wednesday, one that would focus specifically on Super Smash Bros Ultimate. The tweet noted the following:
"Tune in 8/8 at 7 am PT for a Super #SmashBrosUltimate Direct live stream, featuring new game information delivered by director Masahiro Sakurai!"
Sakurai has been on the Smash Bros series since the beginning, and it was he that narrated the Smash Bros section of the Nintendo E3 press conference. So it should come as no surprise that he would be headlining this Direct. The curious thing they note is that they say "new game information". This could be interpreted a lot of ways.
One is that they didn't get to reveal all the balancing and gameplay adjustments that they wanted to during E3, so they're focused a full Nintendo Direct to fix that. Another interpretation is that they're going to be showing off some new stages, Assist Trophies, items, and more. There could also be a whole new mode coming to Super Smash Bros Ultimate. The Smash Bros series has toyed with various modes over the years and iterations. From Classic to Adventure, to All-Star, Subspace Emissary, and more. With Ultimate, they could try and do even more to build the game up as the true "ultimate experience".
Something that not many have thought of is that Sakurai could announce a beta for Super Smash Bros Ultimate. Nintendo has been doing a lot of demos for their games, and they've been very successful, and have helped games like ARMS and Octopath Traveler get big sales. They did a demo with the 3DS version of the game, so one for the Switch wouldn't be out of reach.
Naturally though, most people are going to interpret "new game information" as a reveal or two of new characters in the roster. During E3, Sakurai noted that because of the "Everyone Is Here!" initiative, the roster would be so large that they couldn't just throw a bunch of new characters in the game. But, he did say that there would be a few more. We already have Inkling from Splatoon and Ridley from Metroid, and gamers have been speculating since the teaser for what would become Ultimate as to who else would make it in.
Many are hoping that we get two character announcements, while others are hoping we get a "big reveal" character. Either way, all questions will be answered on Wednesday.