---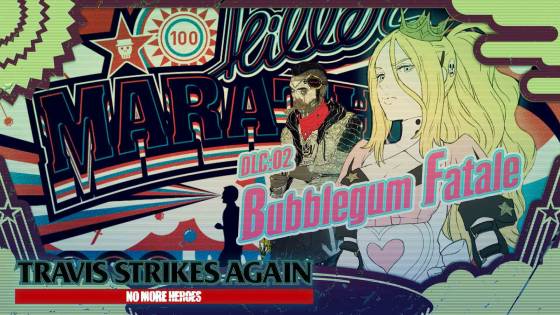 Travis Strikes Again: No More Heroes is an exciting return for one of the Wii's most violent and off-the-wall characters. Director Suda51 has made it clear at this point that the game is more of a spinoff rather than an official No More Heroes 3. This much is clear by the top-down gameplay, which looks just as crazy and action-packed as the former two games' hack-n-slash adventuring. Suda hasn't ruled out the possibility of a No More Heroes 3, however, and has gone on record stating that if this game sells well enough, a true sequel will finally be in the cards. It's for this reason, then, that Travis Strikes Again is getting DLC content. The other day, Suda and developer Grasshopper Manufacture teased a No More Heroes livestream. That stream went off without a hitch this morning, and with it brought the news of a season pass and returning characters. Let's dive in.
The season pass will be available as soon as the game launches, sold for $9.99. Purchasing it will net you access to two separate DLC packs as soon as they're available over the course of 2019. The first pack, Vol. 1: Black Dandelion, returns series favorite Shinobu Jacobs as a playable character within the game. Shinobu was one of the first No More Heroes' many unique bosses, and she returned as Travis's assistant (and a playable character) in No More Heroes 2. Alongside her, Grasshopper states that the pack will come with 'Badman Ver. ADV Part', but it's not quite clear what this is yet. The second DLC pack, Vol. 2: Bubblegum Fatale, sees the return of another fan-favorite character and boss: Bad Girl. Bad Girl was the penultimate boss of the first NMH game, but hasn't made a return appearance since. She'll be fully playable, just like Shinobu. Her DLC pack is a bit more hefty than Shinobu's, however, coming with an additional stage called Killer Marathon, and 'Travis Ver. ADV Part'. Both characters are sporting fancy new designs too.
That wasn't all of the news Grasshopper had for us though. Later on during the stream, they announced that many voice actors from past NMH games will be reprising their roles for this outing too. Most notably, Robin Atkin Downes is returning as the voice actor for Travis Touchdown. This was a pleasant surprise, considering many weren't sure if he was still voiced the same in Travis Strikes Again. Kimberly Brooks will once again be voicing Shinobu, and Kathryn Fiore will lend her voice to Bad Girl just as she did in NMH1. Voice actors for the new characters and bosses also got revealed, but only a couple. Bad Girl's father, Badman, is the secondary main character of Travis Strikes Again, hunting after Travis as revenge for killing his daughter. Not sure how that will work with her coming back in the DLC, but I'm excited to find out! He'll be voiced by legendary VA Steve Blum, and new boss Brian Buster Jr. will be voiced by Greg Ellis.
Travis Strikes Again: No More Heroes isn't all that far from launch now. It will release worldwide on January 18th, 2019 exclusively for Nintendo Switch. As stated, the season pass will become available for purchase that same day. The Vol. 1 DLC will release on February 28th, while Vol. 2's will release on April 30th. It's not known if we'll see more DLC after these, but it might not be out of the question. A Collector's Edition was recently announced for the game, which includes a whole host of goods alongside the season pass, but it's only available through EU pre-order with international shipping if you live in the states, so keep this in mind. The game will feature both single player and co-op, where a buddy can join in and play as Badman. For the full set of announcements, you can find those over on Grasshopper's English Twitter account. Best of luck to Suda, and hopefully the game does well enough so that the series can continue further.