---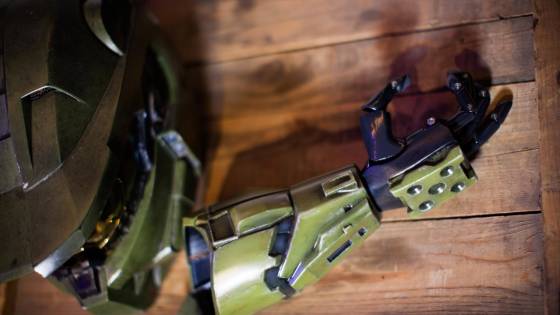 There's always those points every now and then throughout the games industry where a company makes some good, positive change in the community at large. Things like this were a big focus at The Game Awards just the other week, with various segments dedicated to people from all kinds of backgrounds getting new opportunities with games that they never thought possible. 343 Industries, the developers behind Microsoft's fan-favorite Halo series, are the latest group to contribute to all of the good vibes. Just the other day, they announced on their official website that they'll be teaming up with non-profit organization Limbitless to "provide new Halo-themed, 3D-printed prosthetics to be made available to young heroes who- like the Master Chief himself- also routinely and triumphantly beat the odds."
Limbitless is a fairly dedicated team based out of Orlando, FL, and started out through humble origins with a group of college students helping out a family. The team at Limbitless has been passionately creating prosthetic-limb devices of all kinds, specifically for children in need of them. They've been in the spotlight a good number of times, with one of the more recent being in 2015 when they had actor Robert Downey Jr. present an Iron Man-themed prosthetic to a child who needed it. That effort to create limbs that are not only functional, but also aesthetically pleasing, shows nicely with this latest effort. As mentioned, the arms they create are carefully 3D printed, and are capable of complex motions, gestures, and gripping for a fraction of the cost that it takes to make in other companies. The best part is that the limbs are gifted to the families completely free of charge.
For this Halo-inspired lineup, Limbitless will be creating two different options for kids to choose from. The first one is perhaps the most iconic: a recreation of the Mk. VI armor worn by Master Chief in Halo. They've already provided pictures of the prosthetic, and it's a very faithful recreation of what we see in-game. For those who want to be a little more creative (or maybe just aren't that into Master Chief), the second option provides a lot more customization for personal wants. This limb is based off the "multiplayer" variant of the Mjolnir-inspired and personalized prosthetic. Kids will get to choose from 3 different factors: Class, sleeve, and color palette, combining them together to create an arm as unique as they want it to be. The example shown by 343 is an eye-catching sky blue color, evoking to mind all of the many Spartan armor colors seen in Halo multiplayer matches.
343 wrapped things up with a heart-warming closing statement. "We're infinitely honored to have been approached by Limbitless Solutions to help further their ongoing mission to make heroes out of humanity and look forward to delivering hope and helping hands beginning early next year." Was that infinite wording there a clever pun? Who can say for sure. Back during E3 of this year, 343 announced a new Halo title at Microsoft's press conference. The game goes by the name Halo: Infinite, but not much is known about it at this time. Considering this newfound partnership between 343 and Limbitless, this may just be the start of even more creations to come. For the full announcement, you can read that over on 343's news section. It's always good to see companies pitching in with efforts like these, and they deserve the spotlight whenever possible.