---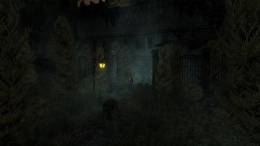 Developed and published by the Indie game studio Dead Drop Studios LLC, Outbreak: The Nightmare Chronicles launched recently on April 02, 2018. It released for Steam and supports Windows, Linux, and Mac OS X. The Nightmare Chronicles is the 3rd game in the Outbreak series and has the old retro feel of Resident Evil 1 and 2. It is a survival horror 3rd person shooter with fixed camera angles inspired by the old Resident Evil games.
In Outbreak: The Nightmare Chronicles you play the game through the eyes of a girl named Lydia in a world plagued by an epidemic that causes the dead to come back to life. Lydia is a survivor that has gotten separated from the rest of her group and is now alone. She stumbles upon a large manor estate as she tries to escape the undead horde and other monstrous creatures. You must try to survive as you try to reunite back with your group and find a way out of the city. To stay alive you must search the manor for items and clues to help you on your journey. You must use notes and other items you find to solve puzzles or unlock doors. You are limited in inventory size so you must manage it and carry only what you truly need. There is a storage chest that you can use to store extra items that you can't carry and can always come back for them later. Game saves are very limited as well as you must find floppy disks that allow you to save once for each one found. You have the option as you search the manor to either engage enemies or bypass them by going to another room. You could always come back to them when you find better weapons or ammo.
Unlike its previous games in the series, The Nightmare Chronicles is not multiplayer. It includes a singleplayer campaign and a Battle Mode minigame where you fight waves of undead similar to Resident Evil 4's Mercenaries. The Battle Mode is a really tough mode where you scrounge for items and fight your way to the exit. This game offers many different difficulties including a one-hit kill Nightmares mode. Internet connection is not needed for this game it and can be played offline.
Outbreak: The Nightmare Chronicles' controls are fully customizable. You can use mouse and keyboard controls or gamepads and can customize the controls however you like. Xbox One and Xbox 360 controllers are supported as well and offer fluid controls which can be customized.
The Nightmare Chronicles is going to be released in chapters, similar to The Telltale game series. You will have the option to purchase each chapter as they come out. At the moment you can get the first available one as well as the base game for $4.99 on steam. You also have the option to buy the season pass for all upcoming chapters for $9.99 or you can purchase The Outbreak: The Nightmare Chronicles Complete Edition that includes both the base game and season pass. You can also buy 2 other bundles which includes all 3 Outbreak games or all 3 Outbreak games with every DLC included. Ending on April 9, 2018, you can purchase all the game content mentioned above at a discounted price for the first week of launch. The discount given ranges from 10% to 23% off, with the Outbreak Deluxe Apocalypse (which includes all 3 games and their DLC) being the best deal.
The Outbreak: The Nightmare Chronicles is now live and is available for PC, Linux, and Mac OS X. Eventually, Dead Drop Studios has said that it will also release for Xbox One with touched up graphics. It is also possible we might see it on PS4 as well. With a price of only $4.49 for this quality game, you cant go wrong with this purchase. Don't miss out on these deals! Go check it out on Steam before April 9th to take advantage of a discount of up to 23% off!