---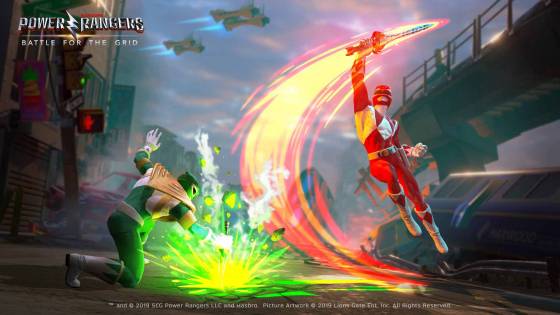 If you were a kid in the 90s, chances are you grew up on an action-packed little series known as Power Rangers. With the show debuting around 1993, Power Rangers dominated in popularity for a long time. Even now, all these years later, the series is still trucking along with new seasons and new rangers alike. While it may not have the cultural popularity it once did, it's still looked back on fondly to this day. It will come as no surprise, then, that the series has made its way to video games from time to time. Power Rangers games tend to fall into various genres, the most common being action/adventure type fare. Every now and then, a surprise comes along. The latest surprise comes in the form of Power Rangers: Battle for the Grid, a fighting game based around the show's colorful history.
Battle for the Grid comes to us from developer nWay, a team previously known for mobile game Power Ranger: Legacy Wars. Legacy Wars mixed both fighting and card game elements, so nWay is working from familiar territory here. They announced the game by way of a teaser trailer, and if one takes a cursory glance down at the video description, they'll find a bunch of info about the game. As it turns out, Battle for the Grid is looking to eschew the usual fighting game formula and go for something a little more simple and streamlined. "Gone are overly complicated command inputs or long patterns," the description reads. "In this easy to learn, hard to master game, the depth is knowing when to strike, not how." Basically, it's all about timing in this game. You'll be choosing from a wide range of Power Rangers heroes and villains, but many of these haven't been revealed yet. Currently, the revealed characters are MMPR Red Ranger Jason, Green Ranger Tommy and his evil alter-ego Lord Drakkon, and lastly, Super Mega Force Yellow Ranger Gia Moran.
As is often the case with fighting games these days, expect there to be plenty of post-release content and characters. There's already a planned first season of DLC for Battle for the Grid, a season packed with "three new characters, their Arcade story, and a new warrior skin". Additionally, the game will feature cross-play AND cross-save support. The latter means that you can transfer your game progress between different platforms. Oddly enough, the cross-play highlight only mentions Switch, Xbox One, and PC, with Sony left out of the proceedings. It's unclear why this is; on the one hand, Sony may be refusing to play ball. Considering all of the recent controversy that caused them to turn their stance for cross-play, the more likely scenario is that nWay has to get it set up with Sony, since their cross-play features are set up in the form of a beta program for only a couple of games right now. Hopefully, that means we'll see them included soon enough; then everyone can duke it out with their favorite Power Rangers characters across consoles and PC alike.
Power Rangers: Battle for the Grid is available for pre-order, set to release sometime this April. You'll be able to play it on Windows PC, PlayStation 4, Nintendo Switch, and Xbox One. The PC version won't be arriving until later, however, while the consoles will debut the game with its April release. No date window was given on when the PC version will be ready. Battle for the Grid will be a digital-only title, with no planned retail versions mentioned. If you're interested, the standard version of the game will run you $20. If you'd rather skip the formalities and get all of the DLC when it releases too, you'll want to go for the $40 collector's edition. In total, it comes with the game itself, all of season one's DLC, and skins to make you look like Pink Ranger or Lord Drakkon Evo II. You can check out the announcement trailer down below, which is currently the only available footage of the game. Go go Power Rangers!