---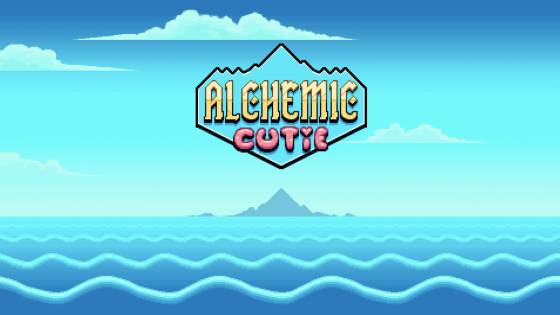 Alchemic Cutie has been in development for quite a while, and it offers up a relaxing and subdued take on the RPG. While most RPGs focus on combat, this one focuses on allowing you to tame and raise jellies. It's rare to see an RPG like this beyond things like Stardew Valley, where the focus isn't on fighting - but alchemy and in-game self-improvement. You can explore the world of Wimba Island and do all sorts of things. You can find fellow villagers and get tips for your jellies or buy supplies. Like Stardew or Harvest Moon before it, you also have a farm to manage.
The jelly farm will need supplies and a wide variety of jellies in order to excel. This is where being able to explore the world comes in so handy because you can go anywhere from beaches to dark mountain caves - and each will have secrets to discover. Deep exploration can enable you to find powerful and rare items to improve your jellies. Being friendly with fellow villages allows you to have allies and you can complete quests to improve your stats, or just hang around with them and make casual conversation to improve your rapport.
There are over 4,000 visual styles for your jellies and you can have them participate in competitions to see who is the best jelly farmer around. Alchemy can be used to mix with things found in the world or purchases to morph items into more powerful forms. The game is also set to have robust post-release support thanks to the Cutie Club - which is essentially the developers' way of allowing players to create their own villages, items, quests, maps, and even islands to share with the world. Alchemic Cutie uses highly-detailed pixel art akin to what might have been seen on 32-bit gaming consoles, with lush colors and detailed lighting effects. It also offers up a fairly humorous tone, with a lot of back and forth dialogue and witty comebacks.
The game's final release is set for sometime in 2019, and they have been updating the game fairly regularly through its playable alpha phase. The UI just underwent a huge overhaul and it was announced that CIRCLE Entertainment will be publishing the game with them as well. To hype it up, there are plans for regular screenshot releases on social media and even podcasts devoted to it.
The game is available to play now in alpha form just by signing up with an e-mail address on the official site, which is really nice. It's always great to see devs embrace a freeway for players to not only play the game but also drum up a bit of buzz. Word of mouth still counts for a lot now, and the game will see release on a variety of platforms and methods. Beyond a Steam release, it will also come out in itch.io and be playable on Linux, Mac OS X, and Windows PCs that run at least Windows 7. Console releases are also planned for the Nintendo Switch, PlayStation 4, and Xbox One - but no timetable was announced for their release.