---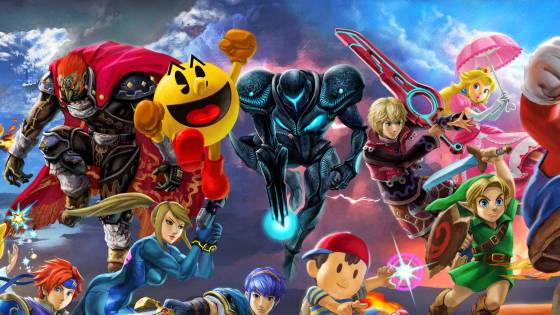 Yes, you read that right! During the Nintendo Direct presentation on September 13th, 2018, it was revealed that Isabelle, from Animal Crossing, will be one of the new playable characters in Super Smash Bros. Ultimate! See here for yourself in this trailer below!
The video starts with Isabelle sitting in her office, working hard as usual. Then, she gets a letter that says that she is invited to be a part of Smash! The teaser goes on to show her moveset.
Isabelle's moveset is inspired by both activities and items from the Animal Crossing series. For example, she can use a fishing rod and a bug net to hit other players, and she can put items in her pockets and throw them at her opponents. She uses a broom to beat people with, and she is able to plant Gyroid bombs that send other players flying when they are activated. Her "Final Smash," which is like a special move in the Smash games, calls in the Nook family. All three of them come in and "build" a small building around the player its cast on. As they are building around the character, they beat them with the hammers used to build the building.
For many years, fans have wanted Isabelle to be a playable character in the Smash Bros. series ever since she was introduced in Animal Crossing. Although they have wanted her to be a part of the roster for a while, it was a shock to everyone. No one expected an innocent, hard-working character like Isabelle to be in this fighting game. No one would have thought of her as a violent character- but look at her attack!
Before Isabella's reveal, we were recently introduced to King K. Rool and Simon from Castlevania, and before that, it was shown that Ridley will be a playable character, too. Those characters are much more intimidating than Isabelle, which is one of the reasons everyone was so surprised. All of her fans know she is sweet and innocent. In fact, several people have been posting on their social media accounts that no one is allowed to attack Isabelle and they have to let her win every time. If people actually feel this way, she could end up being a permanently banned character in Smash Bros. Tournaments!
The Super Smash Bros. Ultimate roster will likely continue to grow before its release date on December 7th, 2018. So far, Isabelle is the 9th brand new playable character added to the Smash series' roster. If you want this game when it comes out and you do not have a Nintendo Switch yet, you're in luck because Nintendo will be selling the two in a bundle- a Nintendo Switch with Super Smash Bros. Ultimate. This bundle will be available after the game comes out, but you can preorder it now!
Since Isabelle made it to the roster of Super Smash Bros. Ultimate, any other character could be next! Expect the unexpected! Do you think there will be more Animal Crossing characters added to the list of playable characters? Well, we'll find out before release as more news comes out!