---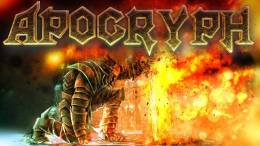 Apocryph is an upcoming old-school fantasy shooter that's ready to bring forth an action-adventure reminiscent of first-person shooter classics, such as Painkiller, Hexen, and Heretic. Developed and published by Bigzur Games, Apocryph is set in a dark fantasy world and packed with forgotten castles. Along with tight shooting mechanics, expect some intense sword and sorcery action as you make your way through sinister shrines and decrepit dungeons. You'll be surrounded by grim, violent quarters, so be sure to expect magic, dark rituals, and dangerous missteps around every corner. The fast-paced gameplay ensures that you'll be face to face with unrelenting monsters, traps, and locked passages throughout your journey. Depend only upon yourself as there are no friendly encounters. You'll be building upon your equipment to succeed, so maintain that you're ready for anything.
Each level is hand-crafted, packed with secrets, and riddled with enemies. The character that you build upon can wield up to nine different weapons, and contain five alternative firing modes. These will include melee armaments, staffs, artifacts, and spells. There are powerful relics scattered throughout the castles, some of which may fuel you with sturdy armor, or allow you to bash enemies with your plain fists for effective damage. If you're lucky, you may stumble upon an Essence of the Reaper, which morphs you into death itself, boosting your speed, and giving you wings that allow you to utilized double jumps with your scythe in hand. Don't forget to gather as many healing aids as you can, and keep your mana vial supply full as you continue to traverse through the rampant depths. Combats items are a nice steal as they increase the damage you deal to opponents, so use them as often as you can. Some weapons contain stun attacks, can allow you to freeze monsters into a solid state, or deal area damage, as to maintain a safe distance. Like any Heretic-like adventure, Apocryph contains a detailed gore system that grants you a punishing finishing blow that can viscerally rip your enemies to shreds, and eventually blowing them to pieces. Limbs will fly all over the place and may stick to the surrounding walls if you're close enough.
As the player, you'll be in charge of the Arbiter, which is a person of noble rank within the Xilai religious hierarchy. Your sect is known for the mastery of various tasks, including artistry and magical unity. Due to this fact, all the surrounding worlds feared your clan. The Xilai worshipped Death itself, and for centuries, raided various worlds in the hopes of reaping souls in the name of a misunderstood Mistress. You return to this world preceding your exile, must find the reason behind your dismissal, and the cause of a newfound desolation. Apocryph will be available on Steam for Windows and Linux come April 27. If this piques your interest, check out the gameplay trailer below, and download the pre-alpha version for free now. There are some items, rooms, and biomes missing here, but this version should run as a smooth testable teaser otherwise.