---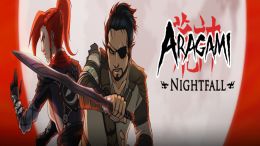 Nightfall is the latest story expansion to the celebrated stealth-action game Aragami. In this new campaign that takes place before the events of the original, players will experience new challenges and complex scenarios designed for veterans. A chapter crucial to the narrative will be delved into, leading players to the events that led to the awakening of Aragami.
Shadow assassins Shinobu and Hyo will follow a mysterious alchemist during one final mission in the hopes of bringing back a long-lost companion. Players may alternate between the two assassins, utilizing newly included shadow powers during a campaign story that puts your stealth skills to the test.
Four new story chapters will take you through the winter valleys and decayed cities to stop a grim ritual, with three shadow techniques available to fulfill your purpose. The story campaign may be played through cross-platform online multiplayer, as the original intends.
For those unfamiliar with Aragami, the third-person stealth game casts players as an undead assassin who possess the power to control shadows. Dampened areas may be teleported to, invisibility is feasible, and weapons may be materialized or summoned in order to infiltrate enemy ranks discreetly. Upon becoming summoned by a women imprisoned within the city fortress of Kyuryu, a dark journey ensues.
Players will slowly unravel the secrets revolving around the truth about Aragami, and the forces that called upon them initially. The occupied city will be at the mercy of your supernatural powers, with Light and Shadow being your primary target. Various mysteries surrounding the world are tied to a pair of twin souls that are bound together by destiny that surpasses memory and time.
Players will slowly work towards becoming Aragami through fighting Kaiho, the army of Light, and rescuing Yamiko, a peculiar woman who demonstrates knowledge regarding the key to your existence. Your journey will be lead you through multiple scenarios that each pan out differently. Players may elect to take on the role of a merciless emissary or an undetectable ghost, however, they please. Aragami: Nightfall will include nightfall power to demon and ghost abilities present in the base game.
Aragami has borrowed influence from stealth classics such as the Tenchu Saga, and gems including Mark of the Ninja and Dishonored. The unique cell shading art-style utilized in the design calls to a mythological Japanese theme, emulating the narrow corridors and fluorescent lights associated with the usual aesthetic.
The difficulty surrounding Aragami's design comes with the punishment associated with taking on certain roles. While you are lethal so long as you remain undetected, you'll be easily outmatched in numbers, which will likely result in death if you are caught by a mob. In the essence of traditional stealth, the shadows will stand as your mark of safety, and straying beyond them will put you in immense danger. Relying on your abilities will aid you greatly, but choosing your battles and maneuvering strategically will lead you towards victory.
Aragami: Nightfall is available now on Windows, Mac OS X, and Linux for purchase on Steam. Stay tuned for any updates.