---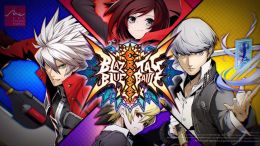 In the video game industry, many developers hand out review copies of their games in order to get early buzz and reviews out. This is so gamers can see and hear thoughts and impressions from fellow gamers and media outlets and gauge whether they should get the game or not. That being said, there are rules for these review copies that must be followed, and to not do so is punishable in many ways. Which is why Arc Systems has set out a warning about their rules for their upcoming title BlazBlue: Cross Tag Battle.
The latest title from the fighting game developer behind Guilty Gear, BlazBlue, Dragon Ball FighterZ and more brings four very different universes together for a fighting game that is pure fan bliss in many ways. Many review copies have been sent out already, and Arc Systems is seeing some things they don't like. Mainly, they see people streaming the Episode Mode, or Story Mode, which is against the rules.
In response to this, they made a post on their website stating that they don't want any streams of Episode Mode. Or at the very least, only go to Chapter 2 of it, they don't want anything beyond it. While they don't explain this, it's not hard to see why they want this. The game's story reveals how the universes of BlazBlue, Persona 4 Arena, UNDER NIGHT IN-BIRTH EXE: LATE, RWBY all come together, and they obviously don't want that spoiled. Knowing them, it's likely very dramatic and very anime, and who would want to ruin that surprise?
That being said, they're in full support of streams posting online matches, or matches against the computer, that's fine too. They're also good with videos with tips on how to control certain characters, guides to how to be the best with some characters, and virtually everything else not related to the story mode. That does give gamers a lot of wide berth for their streams, so it shouldn't be too hard to follow. Yet, they wouldn't have made this announcement if people hadn't done so already.
The game itself is very vast in scope as noted previously. While BlazBlue and the Persona franchises are very well known in the West, RWBY is still considered niche being an internet show made by Rooster Teeth, and this is technically their first true video game appearance. As for UNDER NIGHT IN-BIRTH EXE: LATE, that game has never been brought to Western shores, so this will be an introduction to these characters for many. BlazBlue: Cross Tag Battle will have 40 characters combined from these four franchises. With 20 being available at launch, and the other 20 coming via free and paid DLC.
If you are a streamer, you should heed the words of Arc Systems, video game developers take their review copy policies very seriously, and breaking the rules can cause harm both to you and to others who do the same.
BlazBlue: Cross Tag Battle arrives on PS4, PC, and Nintendo Switch on June 5th.