---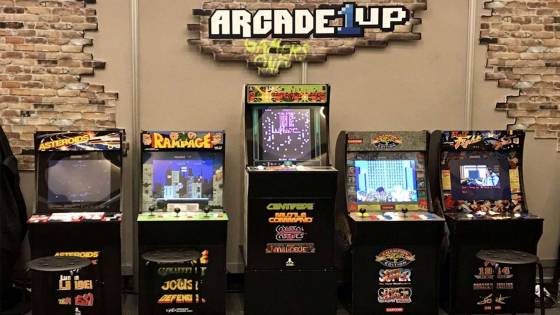 If you grew up before home consoles became the source of entertainment at your house, then you definitely remember spending your time at an arcade. A company by the name of Arcade1Up is commercially producing ¾ scale arcade cabinets for consumers all over. If you plan on pre-ordering these machines you're in luck. As for right now you can pre-order the machines on Arcade1Up's website, the price is $299.99 at retail (as long as you pre-ordered) and if you plan to pick a cabinet up after they come out to stores such as GameStop, Walmart, Target, ext., the price will be $399.99 for now. So the pre-order customer will save $100.00 for pre-ordering the cabinets.
The Arcade1up machines will have a great library full of classic hits, this will depend on which cabinet you order of course. There are 6 to cabinets to choose from.
Midway - Rampage, Gauntlet, Joust, and Defender.
Midway - Galaga and Galaxian.
Atari - Asteroids, Lunar Lander, Major Havoc, and Tempest.
Atari - Centipede, Millipede, Missile Command, and Crystal Castle.
Capcom - Fighter 2 Champion Edition, Super Street Fighter 2: The New Challengers, and Super Street Fighter 2 Turbo.
Capcom - Final Fight, 1944 the Loop Master, Strider, and Ghost and Goblins.
Each cabinet has the artwork of each company's first main title listed and includes games such as Rampage, Galaga, Centipede, Street fighter 2: Champion Edition, Asteroids, and Final Fight. The volume on the cabinets is also adjustable which is a definite plus. These cabinets stand (45.8" H) x (23" D) x (19" W) and weigh approximately weighs 63 pounds so it's actually lightweight compared to a full-sized cabinet (180lbs-300lbs). When purchasing these cabinets, a major detail to know is that you must assemble them yourselves. It appears to be fairly simple to assemble and not many pieces either, so you can get to the games as soon as possible. If the height of the cabinet is something that turns you away, don't worry because Arcade1Up has got you covered.They will also be selling a riser to make the cabinet taller and will also sell a gaming throne stool. These cabinets run on emulation and all licenses were purchased by the company so it's all legal and safe.
If you are a fan of retro games and loved the arcade, then this is definitely something you will want to check out. If you lover fighter games and have competitive friends to play with, then the street fighter is for you. If you're a collector then you could wake up next to a miniature arcade in your living room or game room. If you're looking for an arcade cabinet to own, they can cost $1,000's of dollars and if you're looking for a cheaper substitute then these are perfect. Look for these to come to stores late September.