---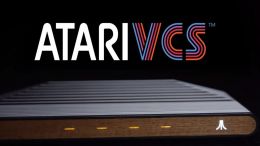 Atari VCS has just been funded through IndieGoGo with the pursuit of bringing gaming and home entertaining streaming services to your living room.
Paired with a retro-inspired aesthetic and slim design, this completely modern video computer system serves as Atari's first-ever connected home platform. Games both new and classic will meet with streaming media and a universe of web-powered entertainment wrapped in one little black box. Just like Atari did four decades ago, this system aims to transform the manner in which we interact without televisions, all while offering unprecedented levels of control and flexibility.
At a glance, what Atari VCS brings is play, streaming, connection, customization, voice command, and curation. Games of all kind may be experienced and streaming from web-based entertainment platforms that will be entirely viable. Connecting online will be an Atari first, and the customizable port will be integrated to Linux Sandbox. Voice command technology can be used to navigate various functions, going online, and accessing the connected devices. All kinds of content can be personalized and shared across many social platforms.
One of the most exciting promises includes over one-hundred classic Atari games being pre-loaded on every Atari VCS come launch. They will be featured in their original arcade or 2600 formats and be ready to play as soon as you connect it to your television, so be sure to load up Pong or Missile Command when you're testing it out.
The Atari VCS platform offers a digital playground for established and emerging studios to create new games and port old favorites. A list of confirmed independent studio partnerships have signed on, with the list growing insatiably. So far, Petroglyph, Code Mystics, Origin8, Playmagic, Eden Games, and various more, have been included as studio partners. Further industry partners will be announced in the near future to emulate the diverse group of titles that should be expected to become available come launch. New releases and exclusive titles are to be expected come day one.
The user interface is designed to simulate Atari's distinct user experience. The brand's iconic design is back, with colorful visuals featured throughout the menus, store, and dashboard. Inspired by Atari's Art and Industrial Design Department of the 1970s and 80s, this creative decision is set to emulate a classic appeal to a modern system.
The platform supports storage via cloud or USB, may run multiple operating systems at once, allow users to customize their own unique platforms, and load up homebrew games. This all comes as part of the Linux Sandbox, which formally includes an AMD/Radeon processor, Linux Ubuntu OS distribution, customizable UX, and low TDP architecture. It will be compatible with most PC peripherals, contains entertainment system connectivity, and is paired with smart home integration.
The design itself is inspired by the past but built for the future. Taking inspiration from the original Atari 2600, the Atari VCS feels retro but has all the characteristics of a new console. No raw edges are in sight with the holistic ecosystem exterior and features a refined silhouette alongside the front panel made of real wood. The classic joystick will make a comeback, but with a new twist. The joystick will double as a basic media remote that can be used to navigate the Atari VCS menus and dashboard via Bluetooth or USB. You'll also be able to get your hands on a modern Atari controller that is fully-functional and PC compatible. Use this on the Atari VCS, PC, and Android devices through Bluetooth or USB. Though, if these peripherals don't really appeal to you, you can always use your own, as external controllers, keyboard, mouse, webcam, microphone, or speakers can be hooked up.
Developers who would like their games on Atari VCS are encouraged to submit for distribution. The details regarding the application process are listed on the IndieGoGo page, with an overview and agreement present. The team making Atari VCS will review and test your game for compatibility to ensure it's working correctly on the platform.
The pre-order campaign is currently open, with pre-orders arriving to consumers in early 2019. A worldwide release is projected for mid-2019, but dates and schedules may change depending on how smoothly development goes. This one certainly seems like a promising and worthwhile investment, so be sure to check out the IndieGoGo while it's still live.