---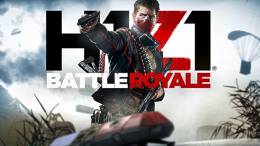 It seems like, these days, if you throw a rock in any direction, it's bound to land on a new battle royale game for PC and consoles. PlayerUnknown's Battlegrounds and Epic Games' Fornite Battle Royale have been the two juggernauts of the conversation, both competing on the same platforms with large amounts of fans on either side. Boss Key Productions jumped in on the action with the release of an early test version of their battle royale game Radical Heights. Now, consoles are going to be receiving yet another title, but rather than something totally new, this one has already existed for some time on the PC space: H1Z1!
H1Z1 has had a pretty complicated history over its 3 years of early access and eventual release earlier this year. Very early on in 2015, the game entered early access on Steam and had a difficult year, with many criticisms that the game was plagued with bugs and technical issues. A little over a year later, the developers behind it, Daybreak Game Company, announced that H1Z1 was going to be split into two separate game projects, H1Z1: Just Survive and H1Z1: King of the Kill. Both of these projects would have their own development teams and branch off of what H1Z1 was trying to accomplish. Over a year after that, in the latter half of 2017, both games changed their names, with Just Survive losing the H1Z1 tag name, and H1Z1: King of the Kill simply becoming H1Z1. And thus, the two games we have now: Just Survive and H1Z1.
Just Survive is still in early access to this day, and is largely similar to what the gameplay of the original H1Z1 was like. The new H1Z1, on the other hand, finally exited early access and released to PC players in February of this year. It features a battle royale style of gameplay offshoot from the original H1Z1 and was presented this way back when it was called King of the Kill. The game changed to free-to-play upon its release, and will also be free to play in the upcoming console versions that were announced today.
Quite a twisty backstory, isn't it? It's for this reason though that Daybreak Games is proudly calling this port "the original standalone battle royale game", due to King of The Kill/H1Z1 being around since before PUBG took the genre by storm. Rather than being a simple port though, Daybreak has stated that the console versions of H1Z1 will be a reimagining of the game. Console players will get to look forward to new and enhanced features, such as new weapons, an entirely new HUD, and a new progression system. Similarly, the crafting system from the original is nowhere to be seen in this version.
The game is currently undergoing closed beta on PlayStation 4 only, but will officially be entering open beta on May 22nd. No word's been given on if Xbox players will also have an open beta. If you want to get in on the action before May, make sure to sign up. H1Z1 will be available on both PlayStation 4 and Xbox One. The actual release date following the open beta isn't known at this time, but chances are it will be sometime within the year! And of course, you can play the original version of the game on Windows PC since it's free-to-play.