---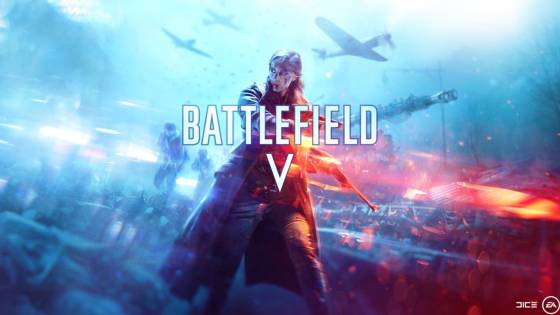 Battlefield 5 is a little under a month away at this point, and it's set to be a big game. Even so, its size comes more from the massive amount of content updates it will be receiving post-launch. Recently, both publisher EA and developer DICE took to the EA Blog to discuss these content updates, named the 'Tides of War', which act as a sort of 'live service' for Battlefield 5. They posted a handy timeline picture that shows exactly what we can expect for each of the three Tides of War periods. The big reveal within this roadmap is that Battlefield 5's battle royale mode, Firestorm, will not be starting up until March 2019. It's not quite known why this is, but it's important to keep in mind that Firestorm is being developed by Criterion with the help of DICE, so it may be taking a bit longer than the other additions.
The Tides of War, at least so far, are split into three big launches: Overture, Lightning Strikes, and Trial By Fire. Overture will release sometime between December-January, meaning everything will kick off around two or so weeks after Battlefield 5's initial release. Overture will bring with it a new map, customizable vehicles, The Last Tiger single player War Story, and the addition of a practice mode. As the name of this mode implies, you can use it to goof around and test out your weapons and vehicles. Lightning Strikes launches between January-March 2019, and its big addition is the Combined Arms co-op mode, along with Rush and Squad Conquest modes for multiplayer. Want to team up with a buddy? This will be when you can. Last but not least is Trial By Fire, which includes the aforementioned Firestorm battle royale mode. Alongside this, you'll be getting a new map called Battle For Greece, an unnamed new multiplayer mode, and a new mission. Certainly, a lot to dig into!
As far as Firestorm goes, DICE's Jonas Elfving had some things to say about it. "During spring, DICE and Criterion start the fire with Battlefield V's battle royale experience," he writes. "Firestorm elevates the mode by bringing in the best of what Battlefield is known for." The mode has been given some details in the past, so we're not completely in the dark on it at least. A trailer earlier this year revealed that Firestorm will feature 64-person matches, with players split up in 16 four-player squads. As with other games in the battle royale genre, Firestorm will have a heavy focus on vehicles and destructible buildings, two things that Battlefield is well known for always having. Naturally, it just seems like a perfect fit. DICE has also assured that they'll be providing weekly updates, events, and rewards throughout the game's life, meaning there will always be something to jump into each time you play.
The best news is that all of this content will be available completely free, no additional charges required. The only known purchasable thing following the game's launch are cosmetic items; EA isn't even selling a season pass for this reason. As the Tides of War updates release, they'll do so simultaneously for every platform Battlefield 5 will be available on Windows PC, Xbox One, and PlayStation 4. The game itself releases on November 20th next month, and the Tides of War will follow shortly after that. While it may be a little while longer until we can finally experience DICE's take on the popular battle royale game format, there will be plenty to keep us busy in the meantime. For the full blog post from them and EA, you can give that a read on EA's official website. It goes into each addition from Tides of War in detail, so it's a handy overview. For all else, you can check the trailer below to see everything Battlefield 5 will have to offer.