---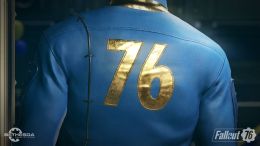 Bethesda has been cooking up quite the news, hosting a 24-hour live stream on Twitch which had fans rabid over what it was all going to amount to. All of the hints and signs pointed to a new Fallout announcement, with many even speculating that it would be a redone Fallout 3 in more modern day graphics. As it turns out, the stream was actually leading to the reveal of a brand new Fallout game, and the next game in the Fallout universe: Fallout 76. As you can probably surmise, the 76 in the title refers to the vault the game centers around, though we'll discuss that further down below. Alongside the reveal, Bethesda Game Studios director Todd Howard stated that there will be more to see of it at E3, leaving us with a short, yet mysterious, teaser trailer.
The trailer offers up little at face value, but multiple clues can be gleaned from it when taken into consideration. First and foremost, the elephant in the room: The vault number. Fans of Fallout 3 and 4 may recognize Vault 76, as it was mentioned multiple times throughout those two games. While it got more of a passing mention in Fallout 4, being opened in the year 2076 for the celebration of the United States' birthday, Fallout 3 gives us a little more to go on. Within the Citadel lies a terminal that talks about Vault 76, among others. According to it, this vault is a "control vault" instead of one of the usual experiment vaults as seen by the player in Fallout 3. These control vaults are tasked with rebuilding the Wasteland back up to order after the "fallout has settled". This could possibly hint at what the gameplay for 76 will be like.
The trailer provides two other important hints for the setting, however. First is the music that it's accompanied by: "Take Me Home, Country Roads", which is seen as a song representative of West Virginia and the surrounding area. Last but not least is the Pip-Boy the character is shown wearing in the trailer, which displays a date of October 27th, 2102. Intriguingly, if this date is representative of the setting, then that would make Fallout 76 the earliest game in the series timeline, with Fallout 1 taking place in 2161, and 2-4 taking place around one hundred years after that. Naturally, there are some rumors flying around because of the vague info, with some even speculating the Pip-Boy's date represents the release date. Kotaku heard from some anonymous sources familiar with the project that the game will be an online survival RPG, but until we hear word from Bethesda themselves, none of this can be said for certain.
The good news is that E3 is, crazily enough, only one week away now, so we'll be finding out much more here soon! Fallout 76 has the usual $59.99 price tag and will be released on PlayStation 4, Xbox One, and Windows PC. Bethesda's E3 conference, once again named BE3, will air live on Sunday, June 10th, at 6:30 pm PT/9:30 pm ET, so make sure to catch it on YouTube, Twitch, or any other streaming platform for more information about Fallout 76. Until then, check out the teaser trailer below, which is a short but sweet minute and a half-glimpse. It's time to put on our tin foil hats for a week!