---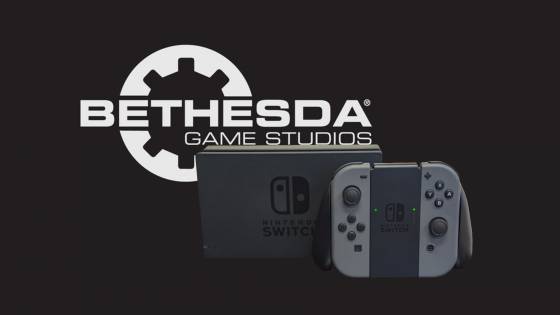 A lot of surprises have come with the arrival of the Nintendo Switch in March of 2017. The console has had a big effect on things, not least of which is selling nearly 23 million units in just under 20 months. Also, it's already had a large lineup of 1st and 3rd party titles, many of which (on both sides) are million sellers, and that's not looking to change at all. But, one of the biggest surprises of all came from the fact that Bethesda has started to support Nintendo in a big way, and has already brought three of their titles to the system.
For those who are unaware, Bethesda has never made this large of a commitment to a Nintendo system before. It was big enough when Bethesda revealed that Skyrim was coming to the Nintendo Switch. But then they brought in Doom and Wolfenstein II: The New Colossus as well, and because of that, it has gotten gamers curious as to what Nintendo and Bethesda's future plans are. Will they continue to work together? Or was this only a few games only deal? The fans certainly want more, but as the video game realm has shown us, business decisions trumps desires from fans.
Thankfully, at PAX Australia, Pete Hines of Bethesda was able to shed some light on things. And not only did he confirm that there will be more Bethesda titles on the Switch, but they're considering a Switch port for every game that they're making.
"The Switch is something I can say with certainty that it's a part of every conversation with every dev we have now about what we're doing going forward because we consider it to be a viable platform. If the game will work on it, we want it to be on every platform possible."
Now, you might be thinking, "Well, then why didn't they have Fallout 76 on the platform?" Well, the simple answer is, it wouldn't have worked on the Switch. They noted that it was "too big", as well as the fact that since the game has to be online all the time, it would've likely suffered from the portability aspect, which is a main feature for the Nintendo Switch.
According to Hines, working with Nintendo like they have has been very beneficial for the company. Bethesda is seen as a "third-party leader" because of the collaborations, as they're taking risks on a new console and seeing big things happen because of it. Hines likes that feeling and acknowledgment, and thus wants to keep the momentum going by bringing more titles to the Switch.
But he also noted that this is just as important because of business reasons. He noted that you "go where the money is", and according to what they saw for Doom, Skyrim, and Wolfenstein II, the Switch is bringing them good business, and thus they'll keep considering Switch ports.
One final note, no matter what happens with other titles, Hines noted that the next Wolfenstein game would definitely be coming to the Switch.