---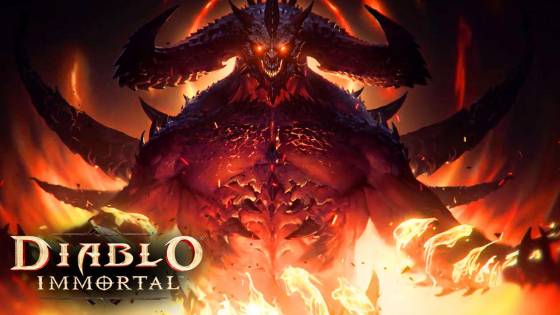 Things got a little... chilly for Blizzard this past weekend during the annual event of BlizzCon. The company holds the convention every year as a celebration of all things Blizzard, and the show was packed with some exciting reveals for fans, such as the addition of a new Overwatch character. Things quickly took a turn for the worse towards the end of the opening ceremony, however. Often, Blizzard saves big reveals for this moment in particular. Expectations were high due to Blizzard's earlier comments of "multiple Diablo projects" being worked on. Many assumed they might reveal a Diablo remaster, or even Diablo 4. Instead, Blizzard revealed Diablo Immortal, a mobile game developed in collaboration with third-party Chinese developer NetEase. The upset reactions to this happened almost immediately, with one fan in the crowd even asking the developers if this announcement was "an out of season April Fools' joke".
Blizzard went on to post a cinematic trailer for the game online, which has already garnered numerous dislikes on YouTube. Needless to say, the large majority of the Diablo fandom are not happy. Why'd this all come about, anyway? Is this Blizzard's doing, or the result of towering fan expectations? To figure that out, it helps to look at what Blizzard said before the convention. After stating that they had multiple Diablo projects in the works, they later posted on the Diablo website: "While we won't be ready to announce all of our projects, we do intend to share some Diablo-related news with you at the show." This posting is what initially set the expectation for something Diablo related. As many fans have already pointed out, the big problem here is not that the game is a mobile title, but that Blizzard chose to use a mobile game as a big reveal for the end of the closing ceremony at BlizzCon. This reveal was presented to a crowd of hundreds of fans, all of whom come from a background of desktop PC and console gaming. If Blizzard had chosen to reveal Immortal in a different way, with different timing, it likely would've gone over better.
Some fans online have also noted that Immortal looks suspiciously similar to another NetEase mobile game known as Crusaders of Light, right down to the UI. Blizzard has since gone on to respond to the backlash, stressing the point that they do have multiple Diablo projects in the works for console and PC. "We've been around for around three decades and we've been making games on many different platforms during that time," said Blizzard co-founder Allen Adham in an interview with Polygon. "So to us, this is another gaming platform... The opportunity to bring this to an all-new audience or to bring it to players who have shifted their play patterns to mobile and bring them all together with an authentic Diablo experience, it's super exciting for us." The response from other Blizzard sources hasn't been as positive, though. Earlier today, ex-Blizzard employee Mark Kern discussed the situation on Twitter, giving his opinion that Blizzard just doesn't understand gamers anymore. "There is nothing wrong with having a mobile version of Diablo. In fact, I would have wanted one as an option," Kern stated. "But the way it was hinted at, and presented, and the failure of Blizzard management to predict the backlash caught me by surprise. Blizzard used to be really gamer-driven."
Since Diablo Immortal isn't the only Diablo-related project Blizzard has up their sleeves, it does make one wonder what other things are in the works behind the scenes. Diablo Immortal doesn't have any details on its release date or business model just yet but will play as a massively multiplayer Diablo title set between Diablo 2 and 3. It will also be linked up with Battle.net, Blizzard's PC gaming service. Once out, it will be available for iPhone, Android, and iPad devices. For now, the long-awaited sequel to 2012's Diablo 3 isn't anywhere to be seen, but it's possible it's one of the other projects mentioned. Below here is the cinematic trailer for Immortal, so give that a gander if you're so inclined. If you'd rather read some hot takes from the Diablo fanbase and Mark Kern, then do make sure to check out his Twitter for more on the situation. Despite the negative reception, Blizzard is sure that this beginning uncertainty will make way once people get their hands on the game, comparing its reveal to Hearthstone. More info on the game can be found on Blizzard's website.