---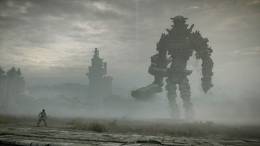 Bluepoint Games are the developers behind the recently released Shadow of the Colossus remake; a stunning and faithfully-recreated modern version of the very important PS2 classic. Before the remake, Bluepoint had been busy with various remasters of more recent titles, such as the Uncharted: Nathan Drake Collection and Gravity Rush Remastered, both of which released in 2015. They seem more than ready to continue the trend of remakes/remasters, as discovered in a recent interview with Digital Foundry. After tackling such a big project like Shadow of the Colossus for a few years now, Bluepoint has gained a lot more resources and a bigger art team. Out of curiosity of this, Digital Foundry inquired as to whether they'd use these new resources to make an original game, to which Bluepoint president Marco Thrush replied, "Well, we could, but we're doing another remake."
Details about this next remake remained mostly at that, but Thrush did elaborate a little on the kind of scope and scale and ideas that the team would be focusing on this next go-around. Due to having increased resources, Thrush explained that the studio is at a point where they can now tackle something of a triple-A scale. Of course, the goal for Bluepoint now is to improve the art team even more, as well as the engine that will be running their next remake. All of this naturally means that whatever this new remake is going to be, it will be bigger in scale than Shadow of the Colossus. In a way, Shadow of the Colossus was not only a good source of new resources, but also great practice for the developers, which has gotten them to a better point for the new project. The studio is even hiring in preparation for all of this too.
The only thing Thrush had left to add at the end of the interview were words that are sure to set hype trains on the rails: "We're really excited about our next project and we think you will be too when you find out what it is." Speculation has expectedly risen since this news, with a lot of people looking further through the PS2 library for guesses, but as of right now, no one can say. In the meantime, the Shadow of the Colossus remake, which released just a month ago, is keeping players tided over until we someday get more word on all of this. You can buy and play the remake exclusively on PlayStation 4. If you're a fan of the remake and want to see how the sausage was made, so to speak, Digital Foundry also put out a nearly 39-minute long interview video with Bluepoint discussing the game and the technology that went into re-creating it from the ground up, which you can view below. In the meantime, keep an eye out for further news on this project.