---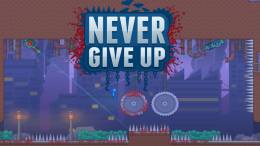 Never Give Up is an upcoming action-adventure that requires you to work through some perilous struggles. Although it's a game that constantly urges you to continue, it's filled with hardcore, twitch-based platforming. As a reward for slaying a level, another element will be layered on top of it, making the challenge even more difficult. After overcoming each conflict, a wrench will be thrown your way, be it guided missiles or a giant rhino mech, that will test your limits in rampantly increasing amounts. There are over 250 stages to get through, massive bosses to be defeated, and a level editor to be utilized to create some new spice. Never Give Up is fully voice acted by the beloved Game Grumps host Egoraptor, and has all the personality to show for it.
Between fueling rage, demonstrating its colorful carnage, and its creative potential, Never Give Up offers multiple quirks to keep players testing new manners of overcoming strife. The developers over at Massive Monster take pride in the gore and violence the game omits, and juxtapose it well with the goofy-looking puddy-like character you're maneuvering. A single misstep can mean death for this little guy, so careful precision around all the sawblades and missiles is paramount to maintaining a worthy run. Although there's no escaping a bloody dismemberment as you're learning the ropes, there are still various cute easter eggs scattered throughout the world to remind you that some joy still exists. The well-known artist Jimp was in charge of all the in-game illustrations, so the experience is certainly a sight for sore eyes. Never Give Up is a singleplayer experience, but that doesn't mean you have to refrain from pushing your sadist talents upon your friends. You can share and create more mayhem using the in-game level editor, which allows you to make your own punishing stages that can be shared with anyone else who owns the game.
Never Give Up is in part among Armor Games' popular Flash game series. Most notably inspired by their browser game Give Up, this new installation shares the frustration-inducing challenge and charm that bolstered their projects to success. There are various references to popular culture and other games sprinkled throughout, among various items to keep you exploring as progress is made. In separating themselves from the flash-based browser game dynamic, Never Give Up offers more complexities in comparison to their previous work, and contains all the challenge, but with added detail. With bull hell-levels of dodging required, and speed being the ultimate advantage to pair with precision, every move is critical. One hit and you're most likely dead unless you've found one of the lucky armor add-ons. With platforms that feel more like puzzles than a vessel that allows you to traverse the world, it's no surprise that a kind reminder that you can overcome the struggle is featured in the game's title. Never Give Up does not have a set release date yet, but is going to be released on Steam for Windows, Mac OS X, and Linux sometime soon. If you're interested to find out what to expect, all other Armor Games' releases are free to play on any browser.