---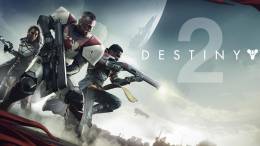 Destiny 2 has come under some fire from fans for various reasons, like the prior microtransactions and the handling of its first expansion Curse of Osiris. In an effort to respond to the criticisms and requests, Bungie plans on updating the game a lot this year with features they feel necessary and features fans have felt necessary as well. Today, the company unveiled a lot more details about that in their plans for the upcoming Season 3 of Destiny 2. The most notable point in all of these plans is the upcoming release of the game's next expansion, Warmind.
Warmind will comprise the first half of the Season 3 plans. Bungie provided a release date and some vague details, stating that Warmind would "send you to new places to meet new heroes and battle new enemies." A look at the official Roadmap reveals more about it, however. Warmind will be bringing different things in play with Destiny 2, including stuff like private matches, multi-emotes, space increase for vaults, exotic weapon masterworks, and sandbox changes, and Nightfall challenge cards, just to name a few. Bungie has also promised to reveal a lot more about Warmind and give fans an in-depth look at the expansion during their Twitch stream on April 24th, so make sure to catch that if you're curious. The actual release date of the expansion itself is May 8th, a little under a month away.
The second half of Season 3 will be coming this summer sometime, with that being the release window for now. This half of the Season will bring PC Clan Chat, a feature long requested by players, as well as Bounties and a New Seasonal Event, among other things. And if that wasn't enough, Bungie even provided details for the farther off Season 4, set to drop sometime this September. On topic of Season 4, Bungie stated "The community has been talking a lot about some of the things we're developing for Season Four. Our goals for these features are to give you more control over how you configure your loadouts in Destiny 2 and give you more reasons to play the game over time. We also want to bring back those exciting moments when you acquire the perfect weapon. To make this happen, updates like Weapon Randomization, Weapon Slot Changes, Gear Collections, and Records will be delivered to all players." This news will come as a delight to fans since weapon randomization has also been long requested.
What's most important to mention about all of this is that once Warmind releases, all the prior maps added onto Destiny 2 in its player-vs-player Crucible mode will be available for everyone to play, free of charge. These maps will be mixed into the standard matchmaking in an effort to balance it all out more and give players more to actually play, or as Bungie puts it, "more opponents for everyone". You'll see these maps in things like Quickplay, Competitive, Iron Banner, etc. While these will be free of charge, the previously mentioned Private Matches are a different story. Players will need to have purchased the DLC of particular maps to actually play on those maps in Private, so do keep this in mind.
As you can see, a lot is in store for Destiny 2, and by the final months of 2018, it's going to be quite expanded from its former self. As discussed, Bungie will reveal more about Warmind on April 24th, and you can play the expansion for yourself on May 8th. Destiny 2 is available on Xbox One, PlayStation 4, and Windows PC. You can view the full details of the Development Roadmap for Destiny 2 down below!