---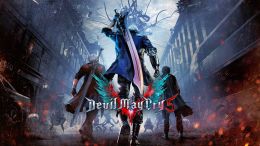 Just the other day, we wrote about how a DMC5 domain name had been registered, seemingly by Capcom, hinting at an E3 reveal. Yesterday, at Microsoft's E3 press briefing, the reveal finally happened. As with many of the games announced and revealed during their E3 showcase, the trailer played without any buildup beforehand, putting us out of context into a city filled with demons. It quickly became evident what we were looking at once a van rolled through with a neon sign stuck to it that said 'Devil May Cry'. After the trailer finished, ending off with a release window, Series Director Hideaki Itsuno took to the stage, excitedly exclaiming "DMC is BACK!"
While there weren't many details outside of all that at first, Capcom has gone on to explain more about the game, its story, and who we'll be playing as. The trailer puts the brunt of the focus on Nero, who has now grown up a little more, has shorter hair, and has a robotic hand in place of his Devil Bringer from Devil May Cry 4. Alongside him is a girl called Nico, a new character to the series who helps Nero with upgrades and enhancing his robotic hand. According to Capcom, "years have passed" since Devil May Cry 4's story, and Nero now runs a demon hunting business by the same name and style as Dante's from the past games. As seen in the trailer, Nero is still sporting his famous Red Queen motorized sword and Blue Rose revolver, all set to the backdrop of Red Grave City, the game's location.
Most interesting is this little tidbit: The game will feature three playable characters. So far, the only one confirmed of the three is, of course, Nero. However, as seen at the end of the trailer, Dante will be in this game as well, looking even older than before but still acting exactly like himself. Chances are he'll be the second playable character, similar to how DMC4 was set up. The third character is really anyone's guess, but naturally, many are speculating it to be Vergil. Capcom confirmed that the game will be running at a smooth 60fps on all platforms for the best action experience possible, and it's all is being made with the RE Engine, which was used to make Resident Evil 7.
Devil May Cry 5 will be releasing sometime in the Spring of 2019, making it one of many games revealed this E3 that have a 2019 release date. Once it does come out, you'll be able to play it on PlayStation 4, Xbox One, or Windows PC. As stated by Itsuno himself, the game will be a return to form for the series, quelling any fan concerns that it will be more like the reboot and less like traditional DMC. That much is also evident in the trailer, which looks exactly like the kind of fun action we've come to expect from Devil May Cry. You can view all of the details about the project from Capcom on their blog, or check out the three-minute long trailer below. Crazy how it's been ten whole years since Devil May Cry 4!