---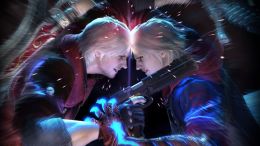 Devil May Cry 5 has become one of those sorts of games you hear many people talk excitedly about but nothing ever comes of it. A slightly similar comparison would be Half Life 3, which is all but hard to expect at this point. Devil May Cry 5 has a little more behind it though, and a recent discovery by series fans on the DMC Discord server hints that something may be on its way. The full story has been laid down via ResetEra, where it goes over how a recent domain registration was put into place by the name of devilmaycry5.com. Normally, that wouldn't be anything to jump at or get excited about, but the interesting tidbit lies in who registered the domain: A third party group called GMO Internet Group. For those unaware, GMO Internet is the same registrar that has been used by Capcom in the past with sites for Resident Evil 7 and Monster Hunter. Capcom, of course, are the main developers and publishers behind the entire series, barring Ninja Theory's reboot. Long story short: It seems Capcom is behind this registered domain.
The timing couldn't be more perfect, considering E3 is starting at the end of this week. While this is all mere speculation, the connection between GMO and Capcom can't be ignored. Why are Devil May Cry fans so on the lookout for a new title anyway? As you can probably guess, there's been various hints over the years towards a DMC5. The last mainline Devil May Cry title, Devil May Cry 4, took the world by storm in 2008, having been one of the earlier impressive showcases for the past release of PlayStation 3. DMC4 has since come to other platforms, being widely available for everyone to enjoy with new editions to boot. That date stands out through 2008. This makes it ten years since the last main game released. Considering 4's introduction to the new character Nero, and some mysterious plot threads left hanging, 5 would have a lot to work with.
What really fueled the fire behind the DMC5 rumor-mill, however, was series director Hideaki Itsuno's comments earlier this year. According to him, he feels ready to reveal his new game soon. Coyly, he left it at that, with fans debating if it meant a new DMC game, or something entirely different. With the recent launch of the Devil May Cry HD Collection on all platforms aside from Switch, all of this timing and hinting seems to be pointing in one direction. Fans of DMC will definitely want to keep an eye out during the E3 press conferences.
There have been other interesting tidbits discovered from all of this, like the domain for Capcom's Resident Evil 2 Remake, which already existed but was updated, suggesting we may see a reveal of that soon. It's been a rather leaky time for pre-E3 news, but all suspicions will be confirmed or denied very soon. Good news is that if you want to catch up on the Devil May Cry series, there's no better time to do it. The first 3 games are available in the HD Collection, which you can play on PlayStation 4, Xbox One, or Windows PC. Similarly, Devil May Cry 4 is available on all three of these platforms as well, in the form of an updated Special Edition that adds new features to it that weren't in the vanilla version from the prior generation. All 4 are exciting, fast-paced character action games with a deep combat system. You can view the full story behind the DMC5 domain on ResetEra, as the hype train for E3 2018 continues.