---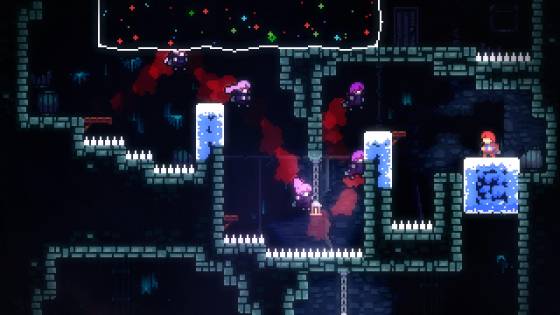 Celeste was one of 2018's biggest hits and arguably the best precision-platformer on the market. Nothing since Super Meat Boy nearly a decade ago had quite the same impact - especially across so many different platforms. It started the year off with a bang and managed to both follow up on Towerfall Ascension with another great game - but do so with something that played completely differently. Where Towerfall succeeded with action-platforming and a bit of arena brawling, Celeste flourishes with even more polish while retaining a fast pace. Matt Thorson developed both games and said that as a result of the game selling 500,000 copies across all platforms, he will develop some farewell levels for what wound up being a bit of a magnum opus.
Celeste prides itself on giving you tons of challenge within each of its levels, requiring you to mix up all of your in-game skills to succeed. The farewell levels are set to be the hardest in the game - meaning that you're far better off waiting to beat the game first before trying to beat them. Given that the game already has stages full of spike pits, having stages that are set to be tougher is a bit terrifying – but exciting. Celeste is the kind of game that requires you to play it intensely and pay attention to everything in order to do well. Playing it passively simply isn't going to work, as it requires you to be pixel-perfect with your platforming in a way that hasn't been seen since the heyday of the Mega Man series on the NES.
Environments are varied, with things like snow-filled towers and flower-covered meadows offering up a completely different feel from stage to stage. Other stages take place in rain or in darkened skies that add another element of challenge to things due to how dark the environments can be. Fortunately, the game is tough but fair because it allows Madeline to stand out from most backgrounds - and she tends to only have her hair blend in with some background elements.
Anyone seeking a top-shelf challenge will love Celeste, and you can play it just about anywhere. Linux, Mac OS, and PC players can play it with fairly regular discounts. Console-owners can play it on the PlayStation 4 or Xbox One, and the game is currently a Games With Gold download - so it's free to download for the life of your membership with an Xbox One system. It's definitely best-played with a controller, although like with Super Meat Boy, you can do well with a keyboard if you take some time to get used to the format. Controllers do generally feel more natural for games like this though - and make it easier to get into for many players. Celeste is a robust game with over 700 screens of platform challenges, and with more coming, this will test your platforming mettle like nothing else on the market.