---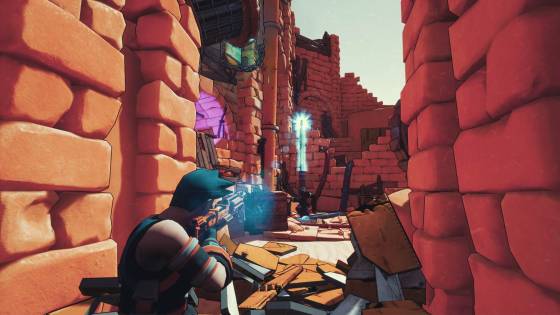 The past two years have seen a dramatic rise in the battle royale sub-genre of shooters. This blend of world-crafting for defense and shooting has become a cultural phenomenon with Playeruknown's Battlegrounds and Fortnite's battle royale mode setting the bar and many games trying to capitalize on it. In the wake of this sub-genre's rise have come games like Radical Heights that try to put a new spin on the presentation, but don't do anything to improve the core game. The goal of all of these games is to be the last person standing, but few provide any context to the goings-on. Crazy Justice provides a bit of a narrative to follow, which should provide some context to things. This may not seem like a huge deal, but when you have a game that is pure mayhem and no context, it all feels a bit aimless.
Crazy Justice lets you pick a hero, customize your skill set, and then find powerful weapons in the world itself to make yourself more powerful. It's still a 100-player war, but with a larger roster than other games. You have dozens of heroes to choose from here and can tailor the game to suit your play style depending on the weapons you either find or pre-load before a game.
One big difference between Crazy Justice and other battle royale games is the pacing. Whereas other games move at a fairly slow pace either having you wait or slowly run around to find foes, Crazy Justice places a premium on fast movement. You have a variety of vehicles to use to explore the world and not only find enemies but learn the environment now so you can either do better in the current match or the next one.
Crazy Justice mixes things up by also allowing you to play with a handicap. If you so desire, you can pick a hero without any abilities and make things harder on yourself. Or, if you feel like taking an easier and perhaps more sane route, pick a hero with a special skill. Some excel with power, others with stealth, some use poison to gain an upper-hand on enemies. Others are great at deploying things like turrets and shields to use offense and defense to emerge victoriously.
Crazy Justice will support cross-play, meaning that you can play on Linux and enjoy the same game as someone on a PC Xbox One, or Switch. You can work together as a team if you want and aid one another to help ensure your survival. The goal of Crazy Justice is to provide something for everyone to enjoy, and you can play the story with a friend and save the world from evil as a team, or flying solo to get all the glory.
It's a free to play game, but those who buy in will enjoy perks like XP boosts and the ability to gain access to all playable characters whenever you want. You'll also earn three times as much in-game cash as free players - so there is an incentive to buy in if you want all the perks. The game doesn't have a finalized release date, but with its August of 2018 release window, it should be going live fairly soon on Linux and PC, with console releases following later.