---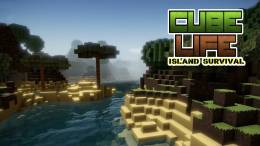 The block building survival game called Cube Life: Island Survival is getting an HD remaster for Nintendo Switch, PlayStation 4, and PC. It was originally released by the Indie developer Cypronia in June of 2015 for the Wii U. While the Wii U version, has received some criticism and low ratings for being a "Minecraft Clone" and not having an online multiplayer earlier in its release, it has become very popular on the Wii U since the console lacked a block building survival genre for quite some time.
Cube Life: Island Survival has quite a few advantages over its rival and inspiration Minecraft and its many other clones. It has more improved graphics and physics. This can be seen in the realistic looking water that behaves as water should and even reflects light. The landscape looks crisper in textures and graphics than its predecessors as does the ore and other types of items you can scavenge in caves and various parts of the environment. The upcoming HD version seems to have even more touched up visuals as well.
Unlike Minecraft and other similar games, the Wii U Cube Life: Island Survival did have a story with objectives you must complete. This included finding water so you don't die of thirst, crafting a boat, and finding shelter among other objectives. Island Survival was also narrated by the player-controlled character in a very likable voice as you progressed through the story, which added to the game. This is something that similar games failed to grasp.
While you could not play online multiplayer in the Wii U Cube Life: Island Survival, you could play local 2 player co-op. Cypronia eventually did make a multiplayer stand-alone add-on called Cube Life: Action Heroes that let you kill waves after wave of zombies with many different guns. Wii U owners who already purchased Island Survival were able to purchase it at a discounted price. This game included a map maker that you can upload your created maps for others to play on, but unfortunately it was not online and only offered 2 player local co-op.
Being a much more polished version of previous block building survival games, Cube Life: Island Survival Remastered should bring a fresh new look to the popular growing genre for some of the current consoles. We expect to see some type of local multiplayer with this remaster, whether or not it will be online is anyone's guess as no information has been released currently. We might even see Cube Life: Action Heroes or some form of it implemented into the remaster as well, only time will tell. Cube Life: Island Survival Remastered will be releasing for PS4, Switch, and Steam in the upcoming months this year with no exact date at the moment. We will inform you of any updates to come.