---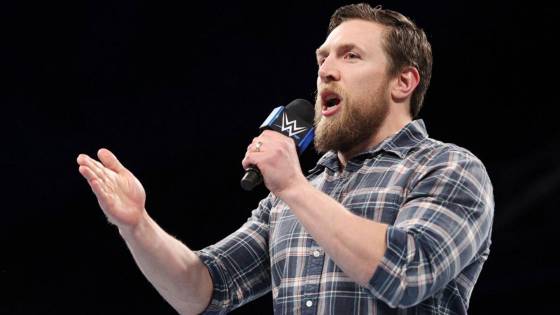 WWE 2K19 has been doing its best to build itself up as the best version of the WWE 2K series to date. And while the graphics may not be a major update, the content is starting to emerge as the real star of the title. And today, WWE and 2K have announced the return of Showcase Mode, and it will feature players experiencing the beginning, end, and rebirth of fan-favorite wrestler, Daniel Bryan. Encouraging players to "Fight for his dream."
For those who haven't played past games, the Showcase Mode allows players to be one of the WWE superstars in a special story mode of sorts, taking them through various journeys and highlighting key matches in their lives. For example, one past Showcase Mode highlighted WWE Hall of Famer Mark Henry during his "Hall of Pain" tour that led to him being the World Champion in WWE a while back. And for WWE 2K19, you'll get to experience some of Daniel Bryan's classic matches, including his arrival in WWE, his title victories, and his iconic Wrestlemania 30 match that led to him being the world champion for the second time.
Daniel Bryan was a long-time member of the indie wrestling community. Battling in places like New Japan, Ring of Honor, and more. So when he came to WWE, it was a big deal, but it wasn't treated as such by the WWE. But slowly, and surely, he rose up through the ranks, and got the respect of the fans, and when the "Yes Movement" was born, his popularity skyrocketed. So much so that WWE actually changed their Wrestlemania 30 plans so that Daniel Bryan could be in the main event, and then win it.
Sadly, following that, he had to have neck surgery, and though he came back and won another title, shortly after that he was declared "unfit for ring action", and was forced to retire. For three years, he served as a part of WWE either in the background or as the new Smackdown Live general manager. Then, in March of this year, he was medically cleared for action, which sparked the return of the "Yes Movement", and got him into some big matches, including one this upcoming Sunday at Summerslam against longtime rival, the Miz.
WWE 2K19 is cashing in on that momentum that Daniel Bryan has in order to bring more gamers to the table. But that's not the only thing they're doing. They're also bringing back Rey Mysterio as a playable character via pre-order bonus, as well as the debut of Rowdy Ronda Rousey. Finally, they're doing a special $1 million dollar challenge with cover athlete A.J. Styles, where four lucky gamers will get the chance to earn the right to face him in real life in WWE 2K19, and if they win, they get a million dollars.
WWE is further teasing some new modes, and the full Daniel Bryan Showcase Mode storyline has not been fully detailed just yet. WWE 2K19 will arrive on October 5th and will be available for PS4, Xbox One, and PC. Stay tuned for any updates!