---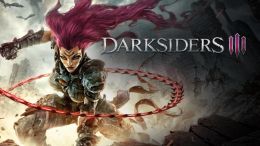 It's over Darksiders fans. After so many years of waiting, and just over a year of confirmed anticipation, Darksiders 3 finally has a release date. We knew it would be coming sometime in 2018, and now, it's been confirmed for just after Thanksgiving. This puts it sandwiched between some other big releases coming out around the holiday season too. Publisher THQ Nordic made the announcement just the other day via the official Darksiders 3 Twitter, alongside some new info about special editions for both retail and digital versions. Read onwards to get all of the details, but first, let's dive into the crazy and twisted history of the Darksiders series and why fans have been waiting so long.
The first Darksiders released in 2010, providing a unique setting and characters and putting you in the role of War, one of the Four Horsemen of the Apocalypse. The game saw a good amount of success and went on to spawn a sequel in 2012: Darksiders 2. In this game, players were put in the role of the second Horseman, Death. After Darksiders 2's release, however, is where things got tangled. Financial woes struck its publisher, THQ, who filed for bankruptcy the same year. The company's assets were then sold to the highest bidder in 2013, sending the Darksiders series into the hands of Nordic Games. Nordic later confirmed that the third game wouldn't be any time soon, leading to a long and grueling wait for an official announcement someday. Fans finally got their wish in the middle of last year, when THQ Nordic revealed Darksiders 3 under the development of a new studio: Gunfire Games. Good news is that Gunfire is made up of many former Vigil Games employees, the company that made the first two.
Darksiders 3 provides a unique setting in that it takes place simultaneously to the events of the previous games. Since the first game's main character was War, and the second's was Death, Darksiders 3 has players playing as the sole woman of the Four Horsemen: Fury. As shown in the reveal trailer, Fury has a lot more attitude than her brothers and possesses powerful shapeshifting abilities split across multiple forms. Gameplay in Darksiders is akin to other third-person action adventure games, such as Zelda and God of War. While War and Death had their own unique gameplay abilities, Fury focuses on what each of her forms can do. She utilizes a whip in combat, and her transformations can give her new weapons, attacks, and movement options. This pattern has fans hopeful for an eventual fourth installment in the series, completing the lineup by having you play as Strife, the final Horseman.
As mentioned, Nordic also revealed info about the different release editions of Darksiders 3 that can be purchased, and there's a lot to sort through. For retail buyers, you have three choices: A standard edition, collector's edition, and the aptly named Apocalypse edition. Standard is just the game, while the collector's edition comes with an 11-inch Fury figure, premium box, steelbook case, soundtrack, artbook, and DLC. This version will cost $149.99. The Apocalypse edition comes with everything from the collector's, but also includes a wall scroll, amulet, and three other figures alongside Fury for the price of $399.99. The digital editions, similarly, number in three. Standard will include a theme on certain consoles, the Deluxe edition has two DLCs included, and the Blades & Whip edition gives you copies of Darksiders Warmastered and Darksiders 2 Deathinitive Edition. These include PS4 Pro and Xbox One X enhancements. Darksiders 3 will release on November 27th, for PlayStation 4, Xbox One, and Windows PC! You can view the initial reveal trailer below to raise the hype levels even further!