---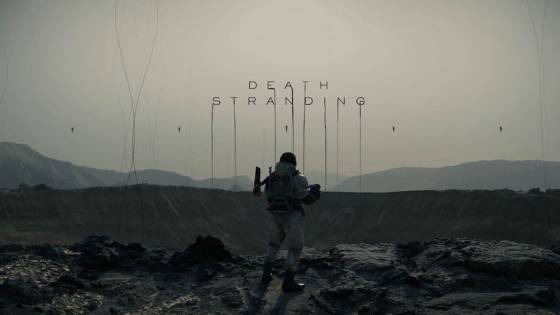 It seems like with every new trailer that comes out for Hideo Kojima's Death Stranding, the harder it gets to figure out what kind of game it is. This rule holds true with the newest trailer for the in-development video game, which Kojima unveiled at Sony's Tokyo Game Show live presentation alongside the Japanese cast. While the show was, of course, presented in Japanese, the trailer is played in English to showcase the addition of a cast member you've probably heard of: Troy Baker. The new footage is just over a minute in length and reveals a brand new character motion-captured and voice acted by Baker himself. For those who may not be familiar with his work, throw a rock and you're likely to hit a game he's been in. Some of his more well-known roles include Joel from The Last of Us and Booker from Bioshock Infinite.
The character Baker plays appears to be a villain of some sort or at least someone who's not on main character Sam's side. He's a sort of robed figure who dons a golden mask that resembles a skull, and he's equipped with the same baby tank that many of the characters are seen using. One of the biggest surprises of the trailer and the weirdest part was when Baker's character summons an oily-looking monster from the ground and affixes his mask to it. The creature appears to be some sort of boss, ripped straight from the likes of Bloodborne. Throwing Troy Baker into the cast just adds yet another famous addition to a game already made up of big name actors and actresses. The main character is played by Norman Reedus, Mads Mikkelsen is supposedly the game's main antagonist, movie director Guillermo del Toro plays a character, etc. Alongside the trailer reveal, Kojima Productions also put out new concept art for each of the characters, including some new ones like actor Tommie Earl Jenkins' character. The best part about this artwork is that it was done by Yoji Shinkawa, best known for his recognizable art style adorning all the Metal Gear Solid games. Good to see Kojima got back in touch with him!
So far, only a small handful of details are known about Death Stranding's plot and gameplay. We got our first look at the latter this past E3 during Sony's press conference, where they dedicated an extended look to it. There was a lot of walking, seemingly a gun of some sort, and sneaking around creepy oil ghost/monster things. Kojima long ago confirmed that it will be an action game in an open world and that the game will feature themes of connections between people. Many of the trailers focus on this, as well as something called "Timefall", a rain that ages people. It all seems pretty trippy and surreal, but right up the alley of Kojima and friends. This marks Hideo Kojima's first game following his departure from Konami after Metal Gear Solid V. He went on to form a new studio, partnered with Sony, under the name 'Kojima Productions'. Death Stranding was first revealed at 2016's E3 and has gotten numerous trailers since then.
While the game doesn't yet have any solid release window or date, Death Stranding's development appears to be proceeding at a good pace. Hopefully, we'll see it released in the next year or two. Once it is out, it will be exclusive on the PlayStation 4. It's being developed with the Decima game engine, the same engine used to create Guerrilla Games' 2017 hit 'Horizon Zero Dawn'. Below is the new trailer, which you should give a watch to see if you can piece together what in the world is happening in this game. It's likely not the last trailer we'll see for Death Stranding either; Kojima tends to reveal these at big gaming events, like the Game Awards in December. Troy Baker joining the cast isn't the first time Kojima and he have worked together either, as he also voiced Revolver Ocelot in MGSV. Welcome back, Baker!