---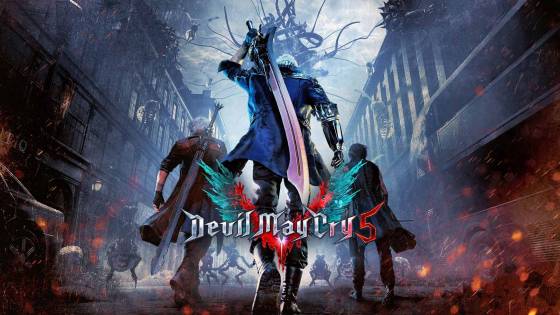 Devil May Cry 5 was one of Microsoft's key highlight announcements from their E3 2018 press conference, providing a look at one of the most long-awaited sequels around right now. The trailer showed off Devil May Cry 4's Nero as returning playable character, complete with a new look. News has since come out about there being three total playable characters in the game, with one being Dante and the other being a mysterious unknown character called V. Director Hideaki Itsuno has been eager to share more, and in a new interview with Dengeki Online, he discusses some more details about the game's story and why fans should be excited. The info has been translated by ResetEra.
The brunt of the interview discusses the story aspect of the game, which the team over at Capcom want to put a good emphasis on this time around. It was a common complaint with past DMC games that the story, while serviceable, could use more than what it has. Itsuno seems to have taken this criticism to heart, and said that the story in DMC5 should get the players emotional to the point of even crying. The story will focus primarily on Nero, though Dante and V will play important roles in it. In an effort to make the game more similar to the core of past titles, DMC5 won't feature any sort of third enemy faction like Devil May Cry 4 did. Rather, it's just going to be humans and demons, exactly as the older games established.
A lot of info was given about the more technical and gameplay sides of DMC5 too, and fans will be excited for what's returning. The game will follow the same mission-based structure that past entries did, and will also see the return of the Red Orb upgrade system (plus an additional tweak to it). The game is being made on the relatively new RE Engine, which is Capcom's internal engine that debuted via 2017's fantastic Resident Evil 7. This game engine is being used to make the upcoming Resident Evil 2 remake as well. As it turns out, the RE Engine is perfectly suited to making action games, and the team over at Capcom has been utilizing it for that purpose. Finally, I'm sure some of you are wondering about that mysterious third character: V. Not much was discussed about him, but Itsuno did state that V won't be able to use weapons and that there's a story reason for why. There's practically a big neon sign over this character's head shouting who he is, but we'll just have to wait and see.
Devil May Cry 5 certainly seems to be shaping up nicely and looks to provide a true character action experience and style like the other DMC games. Some players have speculated that the developers were looking past Ninja Theory's reboot, DmC, from 2013. Producer Matt Walker recently stated in a separate interview that the team has plenty of love for DmC, and have taken some key lessons from its development to aid in the process of DMC5. The hotly anticipated action game is set to release sometime in the first quarter of 2019, which has quickly become a packed period of time for game releases. You'll be able to play Devil May Cry 5 on PlayStation 4, Xbox One, and Windows PC! Definitely make sure to view the full translated interview on ResetEra, as Itsuno had a lot to say and it only ramps up the hype train further. Meanwhile, below here is the stylish E3 trailer, in case you missed it.