---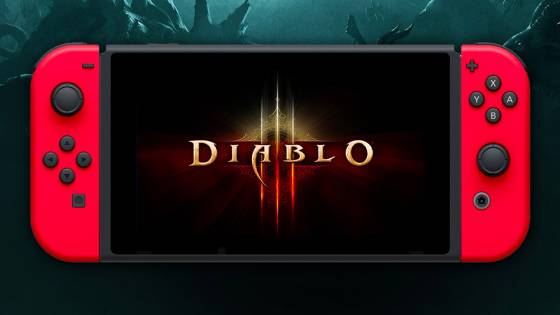 Since its launch, the Nintendo Switch has had a lot of big 3rd party developers bringing its titles to the system. From Street Fighter to Resident Evil, to Dark Souls, a lot of big games have come. But, one that hasn't come as of yet, despite fan requests, is Blizzard. On one hand, they have been very vocal about the Switch, and its potential, as well as the potential for gamers of theirs to be on it, however, they have never committed a title to them. That might be about to change though.
For Forbes apparently released an article saying that Diablo III was going to be making an arrival on the Nintendo Switch, but long after posting it, they deleted it. But not before many gamers and news outlets, including Variety, got a hold of it via screenshots. The game will be called Diablo III - The Eternal Collection, which seems to indicate that the game will not just feature the main Diablo III title, but also, the Reaper of Souls and Rise of the Necromancer DLC expansions that released later on.
Furthermore, the Eternal Collection will apparently have some special Nintendo themed items and armor. Including an armor set modeled after legendary Zelda villain Ganondorf, a Tri-Force frame, a Cuccoo as a pet and a set of special cosmetic wings.
In terms of who can play, it is said that The Eternal Collection will feature four-player co-op, including being able to play on the same Switch with four players, or, having four Switches working together without the need for an internet connection. But, if you don't have friends getting the game, you can do online co-op.
Diablo III was one of the few Blizzard games that gamers felt Blizzard could port to the Nintendo Switch without much issue. For though it does have internet use, it's not required, as you can play the entire game alone. However, despite the massive sales success of Diablo III, it's also one of the most divisive games in the Blizzard lineup, for it changed many of the things that gamers liked about the Diablo franchise. Including getting rid of several key features that made Diablo II stand out on its own. And though Reaper of Souls and Rise of the Necromancer did help, it didn't dissuade all the negative feelings.
On the positive side, if this is true, then having a Blizzard game on the Switch would be a big boom for both companies, even if the port is for an older title. For this could open the gateway to allowing even more games from the Blizzard library onto the Switch. The biggest request since the Switch's launch has been for Overwatch to come to the system, and though Blizzard has admitted that they've considered it, they've also admitted it would be a lot of work to both port and maintain another version of the popular title.
In the end, this is still just a rumor, but many feel that a true announcement will come soon.

Update!

Nintendo of America President Reginald Fils-Aimé and Blizzard Ceo Mike Morhaime have officially revealed that a Nintendo Switch port of Diablo 3 is in fact in the works. The game, which is called Diablo III Eternal Collection, will be releasing in the Fall of 2018 and will include all content that is available on the PC and other systems as well as having Switch exclusive content. Below is the official announcement video. Enjoy!