---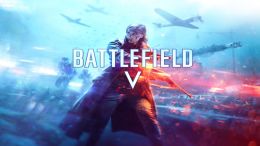 The Battlefield V hype has been absolutely rampant since its initial reveal late last May, with players speculating and developers explaining left and right. While the bulk of what we'll find out will be contained to E3, DICE detailed a very important part of the Battlefield V experience today in a news post on the official website. While many Battlefield games have stuck to the Season Pass DLC model like glue, Battlefield V is ditching that trend in favor of a new system known as the Tides of War. "Instead of just showcasing new locations," DICE explains, "we want to immerse you in this epic conflict and evolve the gameplay, just as tactics and weaponry evolved throughout the war."
To explain it in the best way, Tides of War will be sort of like an ever-changing, ever-evolving set of multiple DLC events, or chapters. Each chapter brings with it a whole load of new things for that period of time: new game modes, maps, equipment, War Stories, and even new gameplay mechanics. In essence, they're trying to create the feel of how World War II shaped itself and evolved over time, showcasing different moments throughout it in the form of Tides of War DLC. Since there will be no Season Pass, some of how it will work is still unknown at this time, but will likely be detailed at E3. Over the course of Battlefield V's first year, there will be four of these Tides of War chapters, with one arriving every few months. The first one will be called Fall of Europe and will feature week-long Grand Operations and Special Assignments.
The backbone behind all of this is Battlefield V's new Company system. As you progress through the journey of Battlefield V, your Company will grow, consisting of "customized soldiers, weapons, and vehicles developed and modified as you progress". This Company can be utilized by you in every multiplayer mode, as well as the Combine Arms co-op mode. Players can create up to one Company per faction, with the game featuring only two factions (the British and the Germans) at launch. The Tides of War will feature various customization rewards for use within your Company, such as skins, face paint, and new weapons. With all of this in mind, it appears Battlefield V is attempting to change things from the past. DICE is clearly keeping the Battlefront 2 controversy in thought, explaining that players won't be able to pay for any gameplay advantages either. Any in-game payments are restricted solely to cosmetics.
EA Play, EA's official E3 event, will be kicking off the tons of press conferences this Saturday, June 9th. It will be aired live on places like YouTube and Twitch at 11 am PT/2pm ET. Battlefield V will almost certainly get a huge focus during the event, and we may also see more on Bioware's Anthem and various sports titles. Battlefield V, meanwhile, is set to release during the FPS Fall season on October 19th. It will be available on PlayStation 4, Xbox One, and Windows PC. You can view the full post from DICE about Tides of War on the official site, or just excitedly wait for more news this Saturday.