---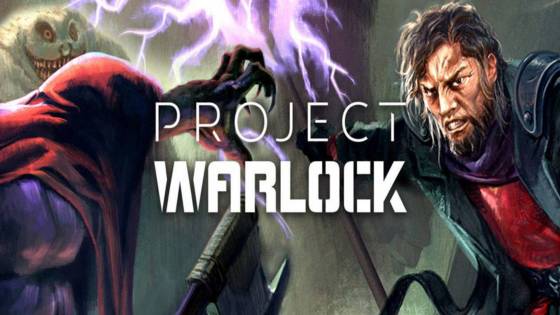 If you haven't heard of Project Warlock yet, now's the time to start looking into Project Warlock. It's an upcoming first-person shooter from the developers at Buckshot Software, and it's bringing with it an interesting style. The game just recently received a new trailer to give everyone an idea of what it's all about, at the same time announcing a release date for its first platform. If you're a fan of retro shooters like DOOM and Wolfenstein, you won't want to miss out on this.
Project Warlock takes retro FPS graphics and environments, mixing them up with modern day shooting mechanics and HD lighting/shaders. Think back to Octopath Traveler's unique visual style and the way it hearkens back to old-school 8-bit RPGs; Project Warlock is essentially doing that, but for first-person shooters. The result is a wonderful looking blend that runs extremely smoothly. The trailer showcases it nicely, and while some may not be a fan of this visual style, it definitely causes Project Warlock to stand out above the crowd. It even adds vertical-aimed shooting to the mix, something that the original FPS games of this type didn't have. It's a nice meeting of the old with the new. Gamers got to try it out for themselves with an early build this past April, and Buckshot has been improving it since.
The game is no slouch in the content department either. It has a total of 60 levels spread out across five unique worlds, not counting the game's hidden secrets which are kind of a staple of the genre. You'll be blasting your way through these levels with a total of 38 different weapons, although some of these are just upgraded versions of previous ones. Since you're playing as a warlock, you'll have access to 8 magic spells to assist in your shooting-and-running. Each world has its own set of enemies, and the main character spits out cheesy one-liners with each kill. It's all good fun and all a nice nostalgia trip for people who played these to death back in the 90s. There's even a perk and stats system backing everything up, leading to a good sense of progression.
As you can see by the title, Project Warlock is expected to launch on October 18th, which is only two days away as of the time of this writing. It's releasing as a timed exclusive over on GOG first, with it making its way to the rest of the PC crowd on Steam sometime at an unspecified later date. If it does well enough on both, maybe we can expect it on consoles someday too. It's always nice seeing modern day games like this and Octopath Traveler expressing how cool some older games really were. If you want to check out the launch trailer for Project Warlock in all of its blocky and bloody action, you can do that below here. For the game itself, head on over to GOG to get your hands on it when it's available. You can also check the PC system requirements if need be. If you're still on the fence, just remember that in Buckshot Software's own words: "Oh. And John Romero thinks 'it looks cool'."