---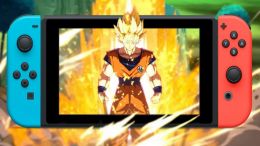 The Nintendo Switch has been doing very well ever since it got launched in March of last year, and one of its biggest highlights has been that numerous 3rd party developers have made titles for the system, and are continuing to do so. Because of that, many Switch gamers have been making requests on what should be next, and one of the most requested ones was Dragon Ball FighterZ by Bandai Namco. The game released in January for Xbox One, PS4, and PC, but a Switch port wasn't announced. Until E3 2018 that is, when it was finally unveiled.
However, there was a catch to that, for though they showed it in the digital press conference for Nintendo, they didn't give a release date for it outside of 2018. This made many confused, not to mention upset, after all, why show it if there's no real date attached to it? Well, Bandai Namco either heard these cries, or they finally figured out when they wanted to launch the title, for they have now revealed that Dragon Ball FighterZ will arrive on Switch on September 28th.
Though it's 3 months away from release, gamers should take pleasure in knowing that it's coming sooner rather than later. What's more, at present, there are no major Nintendo Switch games coming out in September. Which means gamers can save their money up for it and get it when it arrives.
The game will be launched in full, with all the bells and whistles of the game, one thing that isn't clear right now though is whether DLC characters Braddock, Broly, Fused Zamasu and Super Saiyan God Super Saiyan Vegito will be included at launch for the game, or if gamers will have to buy the Season Pass like the other versions require. We do know however that if you pre-order FighterZ you will get Super Saiyan God Super Saiyan Goku and Vegeta in the game. Hopefully, Bandai Namco will fill in the blanks with the DLC situation soon.
Another bonus that will make many Dragon Ball fans happy is that if you pre-order the game you'll get a download game for a former SNES title called Dragon Ball Z: Super Butoden. If you're confused or didn't know that there was a Dragon Ball Z game on the SNES, don't worry, it wasn't released outside of Japan. So this makes this gift something truly special.
Which is appropriate, for Dragon Ball FighterZ is a truly special game in and of itself. It was revealed last year at E3 2017 and was instantly one of the biggest bright spots at the show despite only being shown once. Since that point, it was one of the most hyped games of 2018, and now that it's been out, it's one of the best-selling games of 2018.
The mix of simplistic fighting game mechanics and anime style visuals has helped set the game apart from other Dragon Ball titles. And when it arrives on the Switch, many are expecting it to sell millions of copies on the system.