---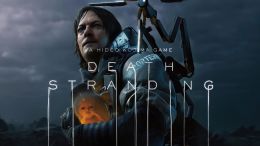 Death Stranding is one big question mark in Sony's plethora of upcoming exclusives, being a mysterious game that, up until now, has only received cryptic cinematic trailers for two years. It's the next video game from the mind of Metal Gear Solid creator Hideo Kojima, after his departure from Konami during the release of Metal Gear Solid V: The Phantom Pain. Kojima went on to work for Sony, forming his own studio by the name of Kojima Productions, and has been working hard on Death Stranding ever since. While there's been nothing of gameplay up to this point, that's changed with the latest trailer for the game from Sony's E3 2018 press conference.
The trailer, which looks as gorgeous as ever, sheds more light on the main character, Sam Bridges. Sam is, of course, the one who is performed and motion captured by the Walking Dead's Norman Reedus, who formerly partnered up with Kojima on Silent Hills before that game got canceled with Kojima & Konami cutting ties. Bridges is seen in the trailer discussing his occupation with a woman, played by Lea Seydoux, revealing that he's a delivery-man of sorts, and that's his focus. Another new character is also revealed at the end of the trailer, played by Lindsay Wagner, though her part to play is a little more mysterious.
Interspersed throughout the video are sweeping shots of what appears to be gameplay, showing off some of the game's environments from rocky wastelands to roaring waterfalls. It's all rendered beautifully in the Decima Engine, which was used to make 2017's Horizon Zero Dawn. Most of the gameplay seen is simply Bridges traveling from place to place, carrying packages as per his job, but the end of the trailer does show the more horrifying elements present in Death Stranding. Bridges utilizes one of the infamous babies to sense invisible monsters that are stalking him and has to sneak his way around them in a rainstorm. It all looks just as bizarre as it sounds, though Kojima himself did expand on the trailer in a blog post: "Sam is unlike any hero you may have seen before. A typical hero is usually some sort of elite or someone with a military background," the post reads. "He is a working man of sorts - a hands-on professional. Herein lies our challenge, to create both a new form of gameplay and a hero that has never been done before."
Other information about Death Stranding is few and far between. The release is still a ways off, for one thing. Kojima has said that the game will be action-oriented in an open world setting, and will feature themes of connection between people through the gameplay. Interestingly, he believes what his studio is attempting to create here will be genre-defining and exploring uncharted territory, gameplay-wise. Former co-creator of Silent Hills, Guillermo del Toro, will also be in the game, as will famous actor Mads Mikkelsen. Needless to say, Death Stranding keeps on raising questions every time it's shown, but one thing is for certain: it looks to be Kojima doing what he does best. You can view the E3 trailer below! Just like all of Sony's other showcases that night, the trailer is a good chunk of time and one of our best looks at Death Stranding to date. For more information about the game, you can also check out the aforementioned blog post from Kojima.