---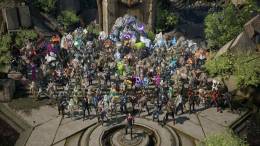 Epic Games' online multiplayer battle game, known as Paragon, is set to have its servers shut down on April 26th next month, effectively putting the game to an end for good. Despite this cancellation, Epic Games has decided to put its assets to good use and release them all for free to the Unreal Engine community, letting aspiring developers everywhere who use the engine have access to a whole lot of new stuff. Considering the combined total worth of the assets is around 12 million dollars, it's a rather big move, but one that sees that the assets won't just get trashed and wasted. In a way, this passes on the failed launch of the game onto the gaming community to carry on its legacy in their own ways.
According to their website, Epic stated that the assets would include all 20 characters, skins, animations, dialogue, and VFX, and also well over 1,500 environmental assets. All of these can now be found on the Unreal Engine Marketplace, meaning developers can start using them right away, "no strings attached," according to Epic. It wouldn't be the first time Epic has released assets for past games onto the Marketplace, but the context of this one makes it a rather bittersweet move.
The story behind Paragon is a rather messy one, but long story short, it was simply a matter of the game failing to find a proper audience, especially with the timing of its release. It first entered early access in March 2016, two whole years ago around this time, and had a beta a year later in 2017. Despite the game failing to gain a community behind it, Epic Games' efforts have now been completely re-focused and centralized on the free to play Fortnite and Fortnite Battle Royale, games which have seen explosive popularity as of late and have obviously fared a lot better than Paragon did. Fortnite was also made in Unreal Engine 4, so who knows, we might someday see its assets on the Marketplace too, just under better circumstances.
With that being said, Paragon's last days are here. Since the game's servers are shutting down in a month, people may want to jump in one last time before it's gone for good. As for all the developers out there, big and small alike, the opening up of so many assets is sure to be useful in the creation of new projects, and chances are we'll see some games released in the future using these assets in both the more well known and indie spaces of gaming. At the very least, it's nice to see all the hard work not be lost for good. If you want to play Paragon one last time, or just see what it was like if you haven't played it before, it's available free to play on Windows PC and PlayStation 4 until April 26th.