---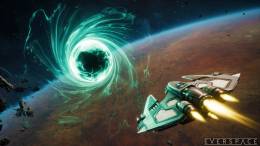 EVERSPACE is a fast-paced roguelike that has been working on a Linux beta for a while. In a recent announcement from the developers at ROCKFISH Games, they have revealed that their upcoming patch will contain the official Linux release, alongside various other tweaks. VR related issues will be mended, improved joystick support will be provided, and several bugfixes will be implemented. Players can expect to traverse through the game's meticulously crafted universe smoothly on Linux, with no more limitations. The developers have provided a gameplay trailer for their latest Linux beta build, which shows off a well-optimized run, leading to a promise that their official build will be entirely without hiccups.
With an even mix of story, atmosphere, and captivating visuals, EVERSPACE utilizes the multiplicity of the universe to craft a vibrant adventure. Players board a spacecraft and begin a journey through myriad galaxies filled with war and chaos. The combat derives from an action-focused singleplayer shooter perspective, where every gameplay decision is made within a cockpit. The universe surrounding the player is ever-changing and never predictable. Various character arcs will develop as the story continues, and begin to unravel the mysterious meaning regarding the existence of the player character. Alongside demonstrating an array of skillful infiltrations and dutiful experience, constructing the puzzle of one's existence will need to be balanced among all the surrounding action. It is realized early on that death is both a pivotal and inevitable part of gameplay, in that it is depicted less as a loss and more as the beginning of a new journey. Each run generates new situations, promoting various opportunities for replayability through varying experiences. There is a wide range of devices and weaponry that can be utilized in the invasive battles that players will often find themselves dashing into. Various items can be unlocked through crafting minerals that are collected or mined. These can perform various tasks, from repairing one's ship, to enhancing their equipment. It is also possible to loot various blueprints that often contain instructions for how to craft materials. This information allows players to begin a hunt for particular equipment and weaponry that they may not have been able to find otherwise. Exploring is paired with a slew of risks or rewards, with various hidden dangers or treasures being hidden throughout the procedurally-generated levels.
In the spirit regarding the difficultly roguelikes have made a name for themselves on, EVERSPACE contains a Hardcore Mode with a permadeath feature. Players can choose from three unique ships that all contain varying capabilities and gear. The persistent progression of the gameplay is best optimized for keyboard and mouse considering the fact that it utilizes shooter-style 6DOF controls. The cockpit displays players control is both dynamic and entirely fully functional. All visual aspects of it are intractable, and promote using a great deal of precision. The game's story is equally well-presented through featuring characters that are thoughtfully detailed and fully voice-acted. Although there hasn't been a release date specified, players can expect to play the full Linux version within the next two to four weeks. EVERSPACE can be purchased on Steam or Humble Store.