---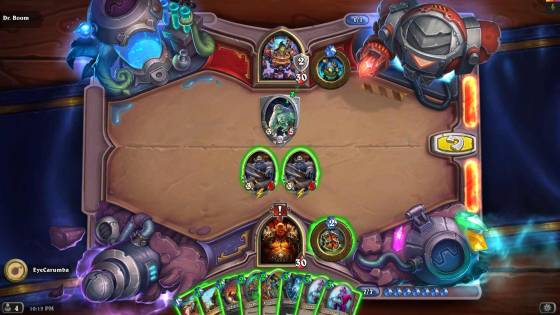 Recently, we posted about how Blizzard's tactics as a company were changing over the course of 2018. It was a rough year for the studio, and one that saw the departures of many key people, such as CEO Mike Morhaime. Earlier on in the year, you may remember when Hearthstone director Ben Brode left the company, alongside various colleagues of his. This happened around April, and Brode went on to form his own new studio: Second Dinner. Second Dinner started out small, just a handful of members, and no one really knew what they were working on... until now. In a recent press release, the company announced that they've begun work on a new game set in the Marvel universe. Better yet, Second Dinner has expanded tenfold and are now hiring for new positions on their website, positioned in a newly built studio in Irvine, California. Well, that's quite the leap!
It's no mystery as to why the relatively small team has ballooned to this degree either. As discussed in the press release itself, the team received a $30 million investment fund from Chinese company NetEase. Looking at NetEase's history, it's not hard to see why they'd plop that much funding onto Second Dinner's lap. The company has had a long history of working with Blizzard Entertainment on multiple games, including Hearthstone. Oftentimes, they can be found assisting Blizzard with Chinese versions of their games. Going on to assist Ben Brode and Second Dinner just seems like the natural move to make. And thanks to that, Second Dinner now doesn't have to worry about raising the proper funds for their Marvel game; with it all funded for, their focus now is just making the best game it can possibly be.
Details on what the game is were few and far between. Jay Ong, EVP and Head of Marvel Games, offered some teasing. "They and the team they've assembled at Second Dinner have made some of the greatest games in history," he stated. "And now, working with the Marvel Games team and playing in the Marvel Universe... it's going to be Amazing! Or maybe Spectacular! Or Incredible! Or Mighty! Or quite possibly all of the above!" The game was a result of a prototype the team had been testing, and they found it to be immense fun. The press statement also mentions that this provides "a huge opportunity to make deep, satisfying games that are optimized for mobile." Considering Brode and the team's history, most have taken these clues to mean the game will be a PC card game of sorts that has been optimized for mobile platforms as well. That's all just pure speculation for now, and from the sounds of it, the game is still in an early stage of development; nothing that can really be shown at this point. For that reason, no platforms have been confirmed yet either.
It's a big win for Marvel and Brode alike, and provides the team an opportunity to put their past expertise to new use. Where this goes, we'll just have to wait and see. "In all likelihood, this will be the best game ever made," joked Second Dinner CEO Hamilton Chu. "I made a spreadsheet so I'm pretty sure. It's going to take us a while to make, but we're already having a lot of fun with the prototype." The aforementioned NetEase have been busy lately, assisting Blizzard in the development of the negatively received Diablo Immortal, as well as investing $100 million to Destiny developer Bungie for a brand new mystery IP. With a lot of Blizzard's more veteran members moving on to new studios and new games, inspiration from Blizzard's past works will leak into new areas in a lot of ways. Make sure to check out the full press release for all of the finer details.